The Top 3 Types of Fake Nail Techniques and How to Choose
Do you love your nails but hate the hassle of having to paint them every week? Or, are you looking for a way to make them look a little bit more special? Then acrylic nails might be the perfect solution for you! {{min-price-cleaning-london-uk}}
You may have seen them in magazines, on celebrities, or even on your friends - But what exactly are fake nails?
There are many types of false nails to choose from. The question is: How do you choose the right type for you?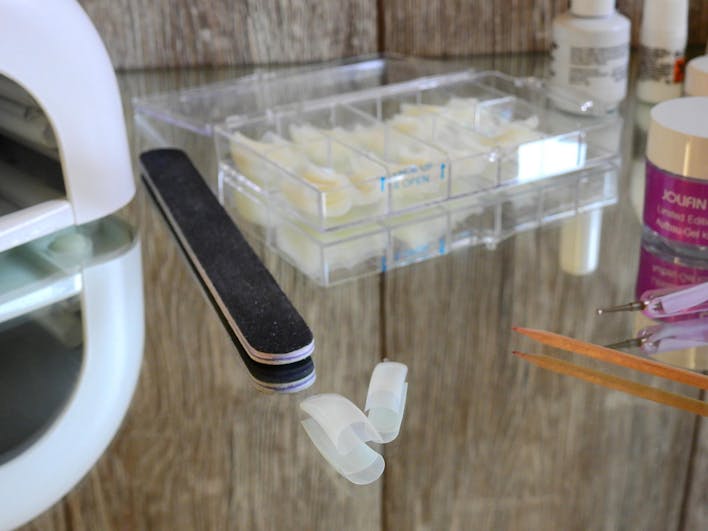 Acrylic nails
Acrylic nails are definitely the most popular type of fake nails used today. Acrylic nails are made from a liquid and a powder that combine to form a hard protective layer over your natural nails. They are strong, durable, and can be shaped into any style you want.
Acrylic nails usually consist of a plastic nail capsule that fits over your entire nail, before the acrylic powder solution is added over top. Then they are buffed, filed, shaped into your desired style, and then painted with either a traditional nail varnish or a gel nail varnish and your choice of nail design.
Pros
Acrylic nails are known for their strength and durability. They can withstand daily activities and are less likely to chip or break compared to natural nails - making them a long lasting manicure.
These types of nails are highly versatile and can be customised in terms of length, shape, and design.
This technique is widely used so it's easy to find a nail tech to do them for you.
Cons
They require regular upkeep and need to be filled every 2-3 weeks.
If not removed properly, they can damage your natural nails.
Related read: 10 tips for a long-lasting acrylic manicure
Gel nails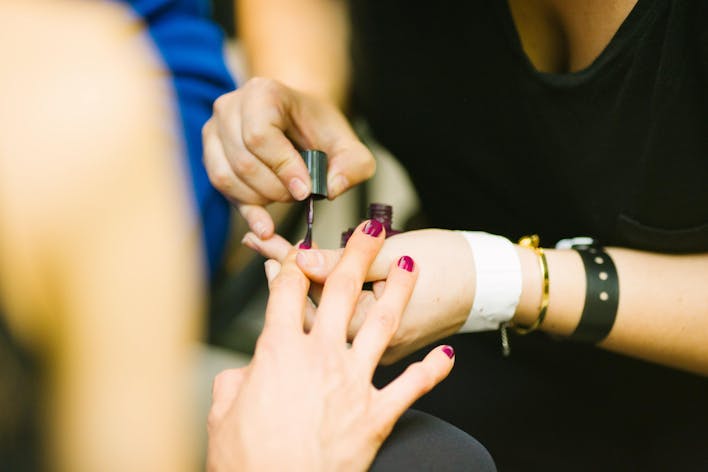 Gel nails are a newer type of fake nail, and they are growing in popularity due to their natural look and feel. They are very similar to acrylics, except that they use a gel instead of a powder to create the protective layer.
Gel nails are made from a gel that is cured under ultraviolet light, and this creates a harder, more durable nail. They are usually less damaging to your natural nails than acrylics and provide a shiny, natural-looking finish.
Pros
Gel nails provide a natural-looking finish that closely resembles the appearance of natural nails. The gel formula is often applied in thin layers, creating a smooth and glossy finish.
Unlike traditional nail polish that can take a while to dry, gel nails are cured under UV or LED light, which makes them dry almost instantly. This can be a time-saver for those who are on the go.
These nails typically require less maintenance than acrylic nails. They are easier to remove, and touch-ups can be done without damaging the existing nail.
Cons
They require regular upkeep and need to be refilled every 3-4 weeks.
The price of gel nail treatments are generally more expensive than traditional manicures or even regular nail polish applications.
They can't easily be removed with traditional nail polish remover and may require another appointment for removal.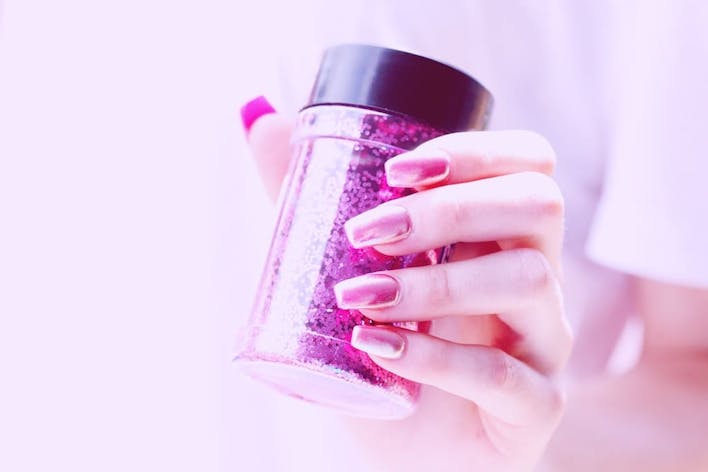 Dip powder
Dip powder nails are a newer type of fake nail that is becoming increasingly popular. They are made from a finely ground formulation of acrylic powder, employed with cosmetic-grade resin, which serves as an adhesive. This is applied to your nails, and then sealed with a clear or coloured polish.
Dip powder nails are supposed to be more durable than traditional acrylics and gel nails, and they can last up to 6 weeks without chipping or peeling. Since this is a newer technique, not every nail salon may offer it yet, so you should research salons before booking this adhesive.
Pros
Dip powder nails are more durable than traditional acrylics and gel nails.They can last up to 6 weeks without chipping or peeling.
Compared to some other artificial nail options, dip powder nails tend to feel lighter on the nails. This can be more comfortable for individuals who prefer a natural feel.
The process of applying dip powder is generally quicker than traditional acrylic nails. It involves a series of dips into coloured powder and does not require UV or LED curing time.
Cons
Dip powder is a newer technique so not every nail salon offers it yet.
It can be difficult to find someone to remove them if you want to switch to a different type of fake nail.
How to choose the best fake nail technique for you?
Now that you know about the different types of fake nails, how do you choose the best one for you? Here are a few factors to consider:
How long do you want them to last?
If you're looking for a temporary solution, then acrylics or gel nails might be the best option for you. If you want something that will last a little longer, then dip powder nails might be a better choice.
How much money are you willing to spend?
Acrylics and gel nails are usually the most affordable option, while dip powder nails tend to be a little more expensive.
How much time do you have for upkeep?
All types of fake nails require some amount of upkeep, but acrylics and gel nails usually require more frequent touch-ups than dip powder nails.
What is your natural nail type?
If you have weak or brittle nails, then gel nails might be the best option since they put less stress on your natural nails. If you have strong, healthy nails, then any type of fake nail will probably work well for you.
If you're thinking about getting your nails done, then you should definitely consider fake nails! They are a great way to add some style and personality to your nails, and they come in many different types to suit your needs.
Be sure to do your research before you choose a type of fake nail, and ask your nail technician for their recommendations. With proper care, your fake nails can last for weeks or even months!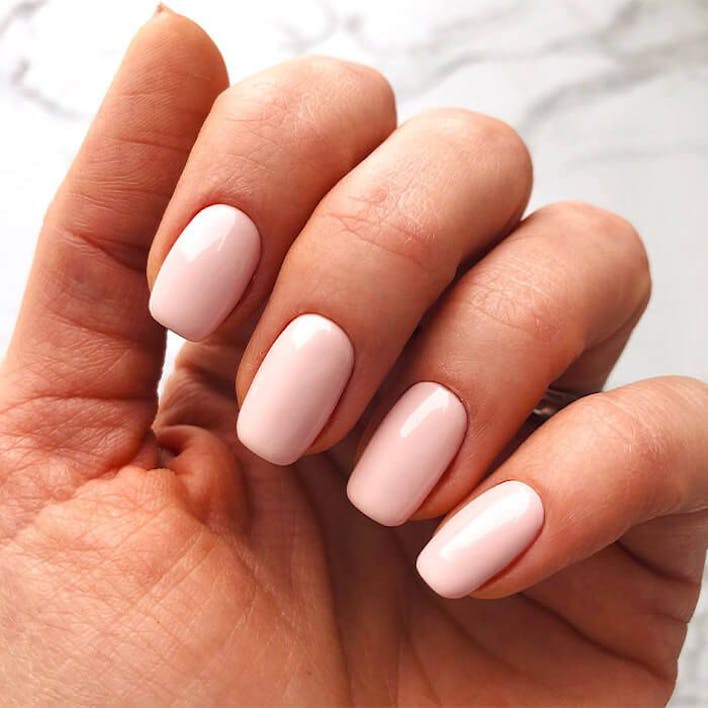 Get fake nails at home with a professional nail tech
Ready to schedule your next nail appointment? Wecasa mobile beauticians bring the salon to you, so you can get your nails done in the comfort of your own home.
We offer many nail services like:
Why spend time traveling to and from the nail salon when you can have the salon come to you? Wecasa at-home nail technicians are available all throughout London and the surrounding boroughs, 7 days per week. Simply choose the date and time that suits you best, and we'll be there to take care of your nails.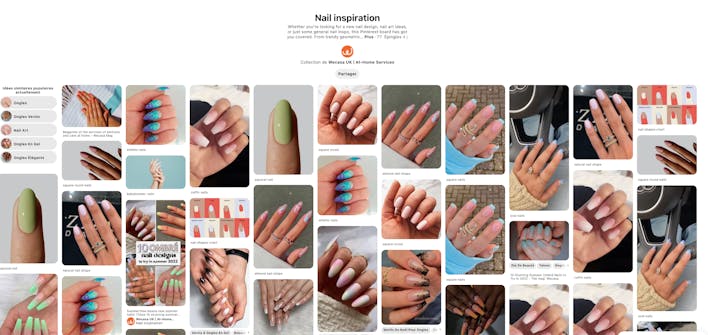 Need some more fake nail inspiration?
Explore our Pinterest board showcasing more than 100 ideas for nail designs and inspiration for your next manicure!