Wecasa Domestic Cleaners 
Who are the Wecasa domestic cleaners?
Wecasa house cleaners are cleaning and personal service professionals. All are registered in the trade and are professionals in the sector, most often with the status of self-employed. This status ensures you can order cleaning services in a completely legal and professional framework.
Wecasa domestic cleaners regularly carry out cleaning and ironing services at home, and know how to listen to instructions and can adapt to each customer or to the specificities of each house to bring you complete satisfaction!
We follow a thorough selection process (as we would before recommending someone to our family!) and verify during the selection process that they have all the required qualities and experience. During an interview, we assess in particular their motivation, their experience, their ability to communicate well with each client and to respect the Wecasa values: Efficiency, Benevolence, Attention to clients.
So take the test, and like thousands of satisfied customers with our services, discover the quality of Wecasa cleaning!
Can I really trust a Wecasa house cleaner?
We understand this concern; your housekeeper will have to come to your home and most often, you will give them the keys to your home to avoid having to be present. It is therefore important to be 100% confident in who you chose!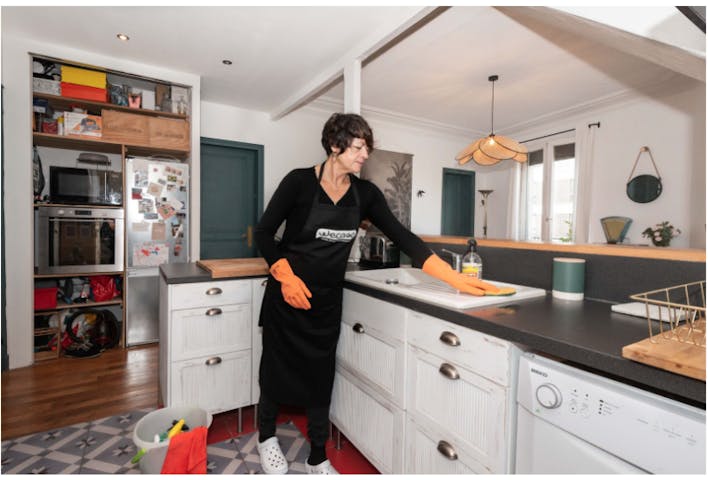 Please note that during the selection process for Wecasa housekeepers, we verify the following points:
Legally registered independent professional status
1 year minimum of experience as a professional household cleaner
A baseline check to ensure that customers have been satisfied over time
A full background and criminal record check
You as a customer also have the opportunity to participate in improving quality by rating your Wecasa pro and leaving a review after each service.
To date, we are very proud to have obtained an average rating of 4.8 / 5.
Please note that all Wecasa professionals are privately insured with public liability insurance covering any injuries or property damage inflicted to a third-party.
For any questions, the Wecasa team is at your disposal from Monday to Saturday, 9am to 7pm.
How to book house cleaning services and/or ironing services on Wecasa?
Ordering a Wecasa cleaning-ironing service is a 100% simple and flexible process.
Booking is very simple:
You indicate your need: cleaning and / or ironing, number of hours, one-off or recurring service
You specify your address and the time of the desired appointment
You confirm your reservation by indicating your credit card number, the debit on the credit card will take place once the service has been performed
You will then receive a confirmation with the name of your housekeeper and the time he or she will come to your house
On the scheduled day, your housekeeper comes to your house and listens to your instructions to bring you complete satisfaction.
For regular services, you can consider giving your house domestic cleaner a set of keys to avoid having to be present every time.
You always remain commitment and contract-free, even in the case of regular cleanings. You can cancel the services free of charge up to 24 hours before, request to change the provider if you wish, add hours, delete them, or add/modify services.
Wecasa cleaning and ironing services are available everywhere in London and in Manchester.