6 tips for a perfect bridal hairstyle
Have you decided to embark on the adventure called marriage?  Congratulations! The long-awaited day is fast approaching. Everyone's eyes and cameras will soon be fixed on you. As the centre of attention, you want to be elegant, radiant and sublime on this special day. From head to toe, including what you are wearing, every detail counts. Wecasa will help you make the right choices to prepare for the most beautiful day of your life!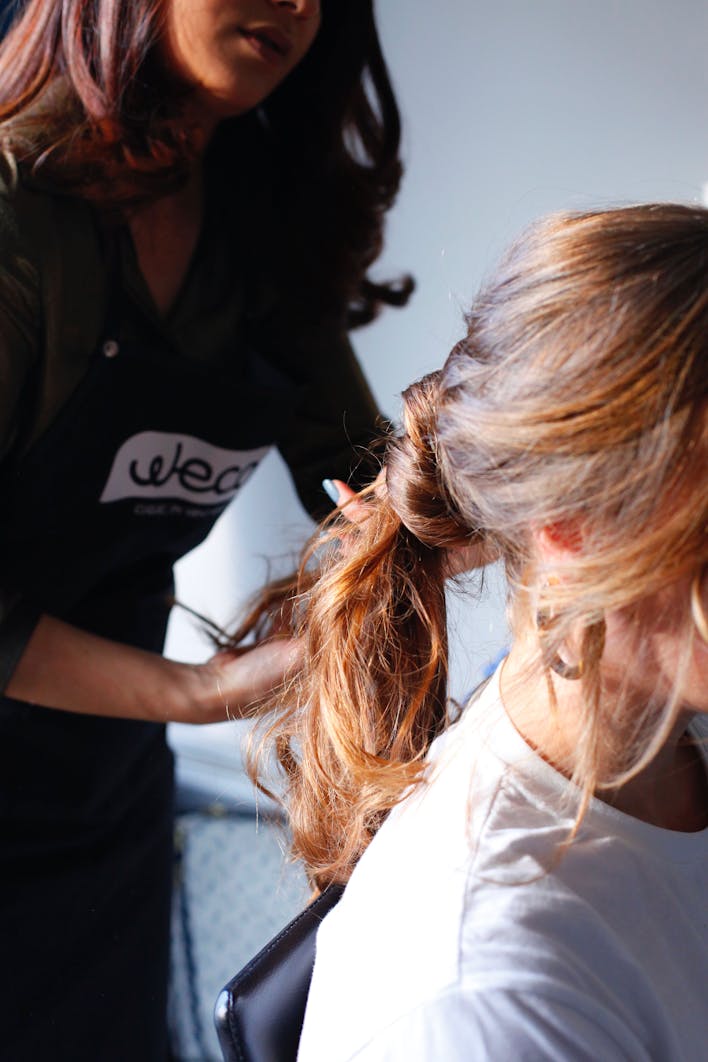 Choosing the right hairstylist for your wedding
For perfect wedding hairstyling, there is no room for improvisation. Take the time to choose your hairstylist and, with them, the hairstyle that will make you look sublime on the big day. Successful wedding hairstyling will bring you joy and confidence to make you feel beautiful and enjoy the day to the fullest.
To make the right choice, make sure that the hairstylist is well qualified (CAP, BC, BP, BM). Then, check their background and experience and look for the opinions of previous customers on the internet or with your friends in order to see some objective feedback.
This research requires a lot of time (everything a bride-to-be lacks). Do not hesitate to entrust your wedding hairstyling to Wecasa Private Hairstyling. We work with experts in home hairstyling and we verify for you the reliability and skills of our private stylists. In addition to styling your hair on the big day, your private hairstylist will give you advice and guide your choice.
Choosing the best bridal hairstyle for you
So, what is the best wedding hairstyle to suit you? 
Well, to make a good choice of bridal hairstyle, take into consideration the nature and length of your hair, and especially your wishes as a bride-to-be. You need to feel comfortable with your hairstyle and be confident and relaxed on the big day.
 There is an almost infinite palette at your disposal to achieve a magnificent hairstyle. Between highlights, weaves, extensions, colouring, all styles are allowed. And the choice of hairstyles is just as wide: ponytail, buns, country bridal hairstyle, bridal hairstyle with English curls, sophisticated bridal hairstyle, retro bridal hairstyle, etc. Let your imagination run wild! And remember to choose a hairstyle in harmony with the shape of your face and with your wedding dress.
To avoid last-minute surprises and ensure a successful hairstyle, ask for hairstyling with trial styling. A few weeks before the wedding, your hairstylist will meet with you to understand the hairstyle you want. They will trial one or two hairstyles in a totally "no stress" atmosphere. Together, you will find the hairstyle that suits you and they will execute it effectively on the big day. You will enjoy being back in his expert hands and managing the timing of the day perfectly.
Trust Wecasa and book your wedding hairstyling including trial styling now. 
Choosing the right bridal hairstyle accessories
Brides are increasingly opting for hair accessories to bring a touch of originality to their wedding hairstyle. These accessories make all the difference, adorning and embellishing the bride's hairstyle. Headbands, tiaras, retro combs, hair clips or flowers... The range of accessories is almost endless.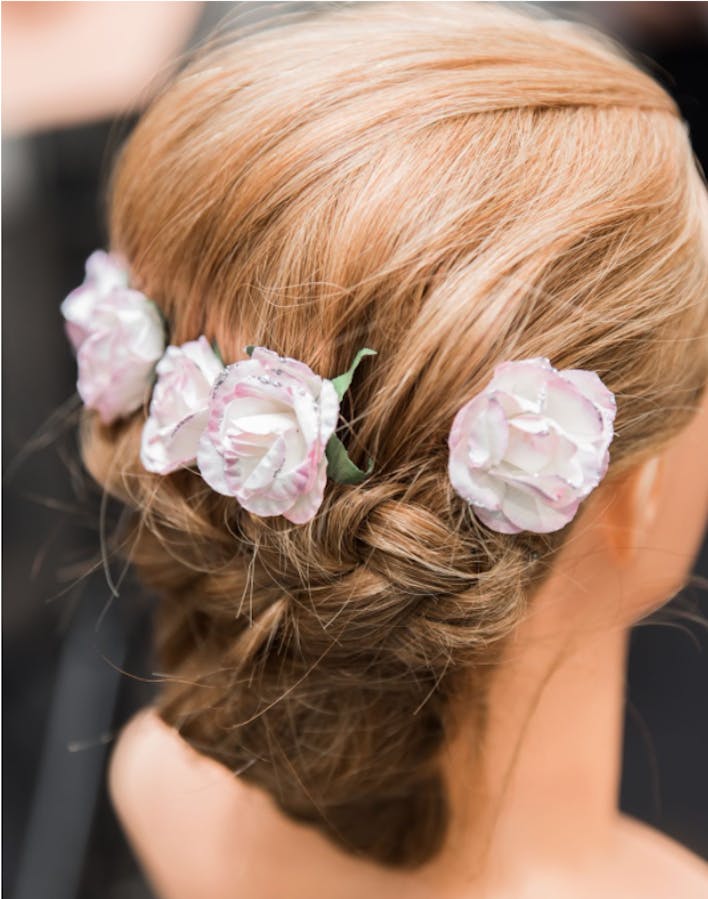 But be careful; remember to match these accessories with your dress and jewellery. For example, if you have beads on your outfit, do not put accessories with rhinestones on your hair. It is sometimes possible to create a subtle reminder of an element of the dress with the help of a hair accessory.
Bridal hairstyling at the salon or at home
For your wedding day beauty session, you have the choice between going to the hair salon or having a hairstylist come to your home or hotel room. However, your wedding day is approaching and you realise that preparations are well underway. For your comfort and peace of mind, opt for makeup and hair at home. Booking a wedding hairstyle at your home or in your hotel room will save you time and allow you to form a more personalised relationship with the hairstylist. This will avoid you having to travel to the hair salon and leave more time for last-minute arrangements and adjustments; then, the provider will be able to devote themselves entirely to you in a more serene setting.
Some tips for your bridal hairstyle
Keep it simple: Simplicity is an art that brings out and accentuates beauty. Wanting to stand out does not necessarily mean "doing too much"!
Match the hairstyle with your wedding dress: The dress will often determine whether you need a simple hairstyle or something a little more showy. A more elaborate wedding dress will require a simple wedding hairstyle while a simple wedding dress will match a sophisticated hairstyle that will enhance the dress as well as the bride's appearance. The secret to choosing a bride's hairstyle is to find the right balance with the outfit so as to remain elegant.
Have a bridal hairstyle including trial styling: You will be more relaxed on your wedding day.
Consider growing your hair: Having long hair offers more possibilities: buns, braids, elaborate hairstyles. So, consider growing your hair.
Some mistakes to avoid
You should avoid changing the colour and haircut before the wedding after meeting your hairstylist. Your advisor has probably already thought of a hairstyle for you and this may compromise what she has planned.
Washing your hair with natural water the day before the wedding is recommended so that the hairstyle holds well and avoiding any hair care such as shampoo, detangler and masks that soften the hair is also recommended.
Finally, remember to book your home hairstylist on Wecasa early enough to avoid a race against time. But if you are late, do not panic, you can book on Wecasa up to the day before your wedding. Good to know if ever your hairstylist lets you down at the last minute!