Wecasa Beauty in the media
Celebricious
"From Wecasa's data, hair appointments including cuts, blow dries, dye and hair treatments, as well as cleaning services appear the most popular across all regions. East London books more messages than the other regions (3.4%) compared to South East London (2.5%), whilst bookings for beauty continue to rise in all boroughs."

"Wecasa works with freelance service professionals to provide professional, convenient offerings to their local customer base. The company currently has 600 skilled professionals on their books and are planning to increase this by 1000 in the coming year to help them expand further into the UK."
Read the full article about Wecasa on the Celebricious website.
Columnist 24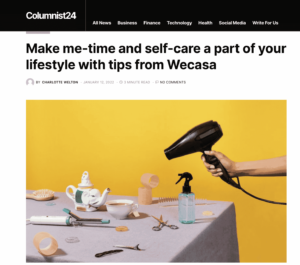 "Wecasa – the online mobile wellness, beauty and home care services booking platform – is on a mission to bring awareness of how self-care and me-time can bring calm, happiness and help with mental health".
See the full Columnist 24 article about Wecasa here.
Bloggers give their opinion on Wecasa & our beauticians
London Mums Hair Removal Experience with Wecasa
"I was allocated Sabrina (Wecasa pro), a fellow Italian with expertise in waxing, manicure, pedicure, beauty treatments. During the weeks before the appointment, I was reminded through the app and sent a very detailed explanation of what to expect. Sabrina was very professional, kind, polite, accommodating and flexible. She adapted to my environment and to my needs. I could not recommend her and this service highly enough."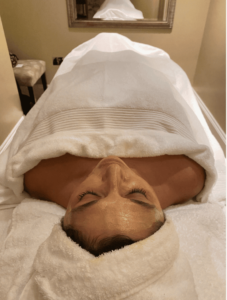 "With workloads on the rise both professionally and at home, it's harder than ever for busy people to find time for themselves and achieve the right work-life balance. Wecasa helps to bring calm, balance and ease to your day-to-day life, no matter how busy."
Read Monica's full Wecasa beauty review article on London Mums.
Girls n'Nantes Eyebrow Hair Removal
Her service: eyebrow waxing + eyelash and eyebrow tinting
"I found Krystale very professional, she gave me loads of advice and honestly I was better advised and treated than in the institute where I am used to; and all for an unbeatable price! Here I am more than delighted with the service that was offered to me and I thank Wecasa for making me meet Krystale who is an outstanding pro! " – Girls n'Nantes
On her blog, Girls n'Nantes also talks about Wecasa's values that appealed to her.
Cécile talks about her Wecasa Beauté experience
Her beauty service : waxing + manicure + nail polish
Her opinion on Wecasa
"I called on Wecasa, a great pampering service at home. What surprised me was the simplicity. The site is very flexible and the time range is very important. " – Cecile
Her opinion on Wecasa hair removal
"To be honest, I didn't expect that well. The hair removal was stripless as I like, quick, not very painful and Cloé resumed well with the tweezers for a truly flawless result. " – Cecile
Her opinion on Wecasa manicure
"The at-home manicure, done with Essie nail polish, was just perfect and the nail polish held without chipping for a week!" – Cecile
To find out more, Cécile alias Paris Pages Blog, wrote a full article about her epilation and manicure experience with Wecasa.
Daphné Moreau uses Wecasa Beauty on a daily basis
"I love being pampered at home, including having my manicure or pedicure done at home. It's so cool to enjoy this moment from the comfort of your sofa; and it doesn't cost more! I use Wecasa regularly! I am never disappointed. You can book all types of services on this app: hairdressing, nails, massage, make-up (and even cleaning and ironing on Wecasa)…. " – Daphne
Wecasa is one of the 15 mobile applications she loves to use every day. To find out more visit her blog Mode And The City.
Féelyli's pedicure
The service: beauty of the feet + application of semi-permanent varnish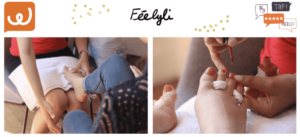 "Alex came to my house. I was a little apprehensive about bringing in a stranger and spending an hour with her. We chatted well and got along right away– she was also a mother of 3 children and living not far from my home! She arrived with all her equipment and started with the beauty of the feet, it was very pleasant and very relaxing. My polish held up all summer without chipping, it was just perfect! " – Féelyli
Féelyli wrote a full article Pampering yourself with Wecasa. More than a simple pedicure, a real beauty experience!
Laetiboop's Manicure
Her service : manicure + nail polish + hand massage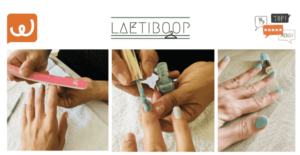 "The Wecasa beautician arrives with all the equipment to your home. A little over an hour later my nails were looking good and I had a really good time. I think Wecasa is clearly the right plan at the moment. A very useful site that I recommend. Save to your favorites quickly! " – Laetiboop
On her blog, Laetiboop describes the 3 great advantages of Wecasa for her.
Adeline discovered Wecasa thanks to the posters in the metro
Her service : manicure + nail polish application
"I had the luxury of trying out the nail polish application at home, I admit it is quite pleasant and the practitioner was awesome. A good moment of sharing, fabulous nails! " – Adeline
On her blog My Natural Ideas, Adeline talks about her discovery of the Wecasa app.
Aurélie's mani-pedi at home
Her service : mani-pedi with nail polish application
"I discovered the joy of being pampered at home. While Anne-Laure took care of my hands and feet, we chatted while listening to music. It was super nice. The result was awesome! She also gave me lots of tips for taking care of my hands and feet. Being at home, I was able to have close contact and ask all the questions that I would not necessarily have dared to ask in the salon. I loved this moment for me. "- Aurélie
If you want to know more about Aurélie's experience, check out her article on her blog MamanWhatElse.
Bibi's home manicure
Her service : manicure + semi-permanent nail polish application + hand massage
"The beautician was very friendly and very professional. You can tell she has experience and that she has mastered what she does. She was very well equipped – I had the choice on the color of my semi-permanent nail polish, thanks to her extensive color chart. At the end of the service, she cleaned all her equipment; it is reassuring and it shows its discipline in terms of cleanliness and hygiene. I was satisfied with her performance, my nail polish was nice and well applied. And the little extra massage at the end of the session did me a lot of good. "- Bibi
Bibi and her blog First time Mom have dedicated a full article to Wecasa.
Wonder Mômes' French manicure
Her service: manicure + nail polish + French manicure
"I finally had the French manicure I dreamed of and it gave me a boost. Thank you to Wecasa for the service and to Isabelle for her kindness and professionalism! " – Wonder Kids
Wonder Mômes details her opinion on Wecasa manicure on her blog.
Virginia's semi-permanent varnish
Her service: manicure + removal & installation of semi-permanent varnish
"1h30 later, I had lovely new hands! Mégane listened to what I wanted and was very gentle. You should know that each service provider who works at Wecasa is a graduate and has an interview during which their skills will be verified, which is so reassuring! For my part, it is a conclusive experience that I will repeat without worry. Knowing that you can come and take care of me at home, at the times that suit me is a great comfort of life, and that alone is the best! "- Virginie
To find out more, visit her blog Dans la Bulle d'une Working Mum.
Alexia's home manicure
Her service: manicure + application of semi-permanent varnish
"I came across a lovely and very kind woman. The service was really good, she was attentive the entire time, brought her complete equipment kit; and all I had to do was sit down and let myself be pampered. " – Alexia
Alexia recounts all her manicure experience with Wecasa on her blog Rêverie Parisienne.
Wecasa Pedicure review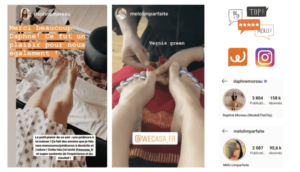 Thanks to @DaphneMoreau & @MeloLimparfaite for sharing their nail polish foot beauty experiences.
Wecasa Mani-Pedi review
Why do only your hands or feet when you can have a manicure from head to toe? @naturellement_lyla & @mumtobeparty have fallen for the mani-pedi combo, the ideal beauty service for dreamy nails!
Wecasa Manicure Reviews
The must-have manicure made @maudinettte, @hortense_gilardi, @zinakhair & @marroumm succumb. There is something for all tastes and all colors.
Wecasa Beauty in brief
Wecasa offers a home beauty service:
available 7 days a week from 7 a.m. to 10 p.m.
everywhere within London and the Greater London area
… even at the last minute!
Wecasa is the benchmark for home services: hairdressing, beauty, massage, cleaning! Take time for yourself without leaving your home with Wecasa.
Do you want to be tempted by another service but you need advice?