Over 500,000 happy moments
Our average rating is 4.9/5
What about you?
Cécile was extremely kind and professional. She put me at ease, repaired my nails, and gave me a fabulous head massage too!
Our reviews are collected
My two children so enjoyed their session. It was a first for my daughter and a big change for my son who keeps looking at himself for mirrors now. Thank you for everything!
Very professional. Deep massage, the pressure was strong and precise which helped unknot my back and legs muscles. I feel lighter and more mobile.
Our reviews are collected
Available, punctual, meticulous, efficient, professional and smiling under her mask: I recommend Hadjila!
Very good moment. She succeeded in making a great fringe. Her good mood is a comfort in this delicate period.
Great service for a pregnant woman. Gentle, careful and takes her time. Meticulous, tracking every hair. Very enjoyable moment. Thanks.
Excellent service. The masseur arrived on time and very professional. Spent time understanding where the pain in my shoulder was coming from and fixed it
Tanguy responded quickly to our request. He is very pleasant and caring. My wife had an excellent moment of relaxation! Hard to come back to reality! I highly recommend him, thank you again.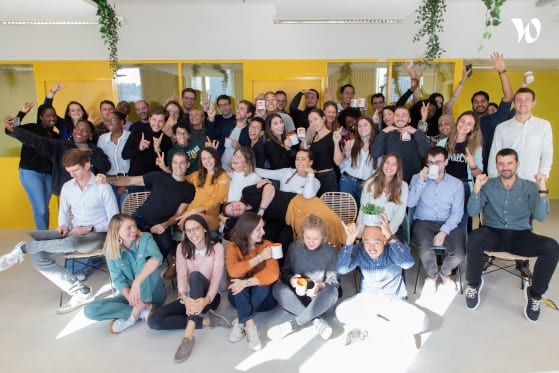 We are Wecasa
2016, 5 co-founders had a big dream: make self-care fit seamlessly into any schedule.
2022, and we're now a team of 50 very smart, rather funny, super nice, and of course extremely modest people.
The Wecasa spirit
Kindness
We're natural optimists—and we're proud of it.
Independence
Partners and clients run things as they see fit.
Efficiency
At Wecasa, impatience is a virtue.
Excellence
We're not shy about having high standards.
Trust
Come together, right now.
Breaking news: Shoreditch, opening of a museum dedicated to 80s haircuts - Tottenham, a man dresses up as a unicorn after an at-home massage that made him feel "as light as a rainbow" - Camden Town, a couple changes its mind, they won't split up now that they have found a cleaning lady - Wimbledon, trouble at the hairdresser: he wanted Brad Pitt's haircut but he ended up looking like Donald Trump - Brixton, a man was jailed for rekindling the mullet hairstyle - Westminster, a study proved that wearing orange nail polish makes you as happy as eating 1kg of carrots - Soho, a family beats the record of the highest dirty dishes' pile ever: 3,4 meters - Chelsea, a woman leaves her husband because he ... - Notting Hill, a couple abandons their world tour now that they discovered Wecasa wellness services
Breaking news: Shoreditch, opening of a museum dedicated to 80s haircuts - Tottenham, a man dresses up as a unicorn after an at-home massage that made him feel "as light as a rainbow" - Camden Town, a couple changes its mind, they won't split up now that they have found a cleaning lady - Wimbledon, trouble at the hairdresser: he wanted Brad Pitt's haircut but he ended up looking like Donald Trump - Brixton, a man was jailed for rekindling the mullet hairstyle - Westminster, a study proved that wearing orange nail polish makes you as happy as eating 1kg of carrots - Soho, a family beats the record of the highest dirty dishes' pile ever: 3,4 meters - Chelsea, a woman leaves her husband because he ... - Notting Hill, a couple abandons their world tour now that they discovered Wecasa wellness services