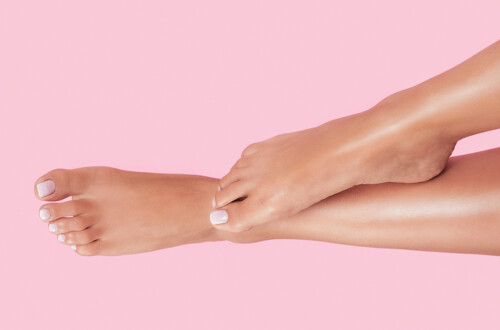 Ombre nails near me (pedicure add on)
At-home beauty
Secure payment after completion of your appointment
Nail varnish and professional manicure tools.
Wecasa explains...
What is an Ombre nails pedicure?
Trending now, the Ombre nails pedicure (also known as a French ombré or fade) is a more modern take on the classic French pedicure. It's the perfect mix of simple, subtle and elegant. The base of your nail is painted in a nude pink that's blended seamlessly into white varnish at the top, creating a subtle ombré effect.
This treatment is for anyone who…
Wants a natural-looking manicure with a slight twist.
Loves the chic, on-trend look of this ombre pedicure.
Practical info
Your beautician will arrive equipped with all the tools and know-how required to pull off the perfect gradient ombre nail manicure: you're in good hands!
The magic of Wecasa
1. Choose your service
Choose your services, indicate your availabilities. It's today? We'll make it happen!
2. Get matched with a trusted beautician
They're experts and right nearby - how convenient!
3. Your pro arrives with everything needed
Enjoy your me-time, at home!
The FAQ
An ombre nail pedicure, what is it exactly?
Ombre nails, also called "Babyboomer nails" or "French ombré nails", is a very trendy nail technique at the moment! 
The white and pink ombre nails are inspired by the traditional French manicure technique, but with a modern twist. It's a nude and pink ombre gradient effect that offers a very soft finish that's classy and unique.
The ombre nail add-on is a nail design based on a gradient style of pale pink and white, which gives a nude-like result on the nail. The end result of an ombre nail is more subdued and soft than a French manicure, which consists of a harsh white demarcation painted on the end of the nail.
Who should try the Ombre nail technique?
The main advantage of the ombre nail design is that it can be applied to nails of all shapes and sizes: almond, round, square...
So everyone can test! Are you looking for a chic, very modern and soft finish on your feet? This technique is for you.
Can I get ombre on acrylic nails?
Yes, you can! The ombre effect can be applied on all types of nails - whether natural, gel extensions, or acrylic nails. The acrylic nail ombre look is a great option for those who would like to add a bit of length to their nails while maintaining a simple and natural looking end result on the nails.  
How is the ombre babyboomer nail technique applied?
For quality nail art, the best solution is to call on professional nail technicians. The Wecasa Beauty Therapists are trained for a professional pedicure and with a little twist of creativity for pretty nails, just the way you like them!
In addition, ombre nails can be done with regular or semi-permanent varnish on the hands and feet and be placed on any type of extension. Beauticians follow a multi-step protocol:
The nail extension is filed to be placed on the nail;
The nail is protected with a transparent base coat;
We apply a layer of nude varnish from the lunula of the nail to the opposite end;
A layer of white varnish is placed on the free edge of the nail;
The nail technician takes care of the gradient technique. She uses a nail art sponge or a cotton swab and blurs the line between white nail polish and nude;
A layer of top coat is applied to protect the finish for as long as possible.
How much are ombre nails at Wecasa?
Generally, the ombre nail cost is thought of as a supplement. This is also often the case for a French manicure. At Wecasa, we'll apply a babyboomer supplement pedicure starting at £12 and the installation takes about 30 minutes.
At Wecasa, we travel to your home, anywhere in London. Our mobile beauty therapist comes to you with all the necessary equipment as soon as you have reserved the slot of your choice. It's the most practical alternative, you don't have to wait in an institute, no need to take transport and as a bonus our beauty therapists are available to give you their best advice directly from your living room.
Can I get an ombre with different colors instead of pink ombre nails?
Originally, the babyboomer was made in a nude and pink color, which is what makes its rendering so perfect and unanimous. However, you can add a little more whimsy to this trendy manicure by telling the beautician your ideal finish. The ombre nail technique can be done with any colors you choose - there are many beautiful different types of ombre nails for you to try!
If you need some lore guidance on the types of nail design to choose, do not hesitate to ask your beautician for advice. She will be able to talk to you about the application of crystals or sequins. It is also possible to apply a different color (peach, pale orange or pink) on a single nail or make a two-tone version.