How to book cleaning services online near me ?
When it comes to the end of a long, tiring week, the last thing you want to do is spend the entire weekend cleaning the house! Why not let someone else take care of it and book a home cleaning service? 
In the digital age, it couldn't be easier to make online bookings, although there are some handy tips and tricks to know beforehand!
In this article, we've outlined everything you need to know when booking a home cleaning service online! 
What type of home cleaning service do you need?
Before beginning your online search for a home cleaning service you'll need to consider which type of cleaning you require! Performing a vague Google search will return a massive variety of options so having a clear plan is crucial. 
Take a walk around your home and identify which rooms need cleaning and which areas are the most important to you! You could go one step further and make a detail house cleaning checklist!
This is a fantastic tool to use with your cleaner when they arrive.  
Cleaning companies will often offer a range of professional cleaning services at different prices. The most common services include:
Specific room cleaning such as the kitchen and bathroom
Regular house cleaning
Floor and carpet cleaning
End of tenancy cleaning
Window cleaning
What to consider when booking cleaning services online
As you begin your home cleaning search online there are several important factors to be aware of.
We've provided our best tips to bear in mind when searching online!
Where to look?
A great place to start is, of course, Google. As we've established, know what you want to look for and be as specific as you can with your search terms! Always include the location of your home and the type of service you require. 
If you're in a hurry and need to book a cleaner for tomorrow, include this in your search also! Google is a fantastic tool to help you find exactly what you need! 
What to look for?
Every cleaning company will promote itself as the right one for you. However, there are some important details you should confirm before committing to a specific cleaner!
Are they fully insured?
Are they local?
How much do they charge per hour?
Do they provide cleaning products?

If you're unsure about any of these details from the website, then calling the company directly and speaking to an employee will certainly provide you with the relevant answers. 
Compare reviews
Every online cleaning company will have customer reviews attached to them. Avoid choosing the first one that appears on the list and assuming that it's the highest rated. Scroll through as many as you can and read a large selection of reviews, positive and negative!
Pay close attention to the most recent reviews as these will be related to the company's current cleaning team.
Compare quotes
Just as important as reviews, the cost of cleaning services online will also influence your decision greatly! It may be worth booking a cleaning service that is slightly more expensive and has excellent reviews, compared with a cheaper one with a lot of negative comments!
You want to ensure you're getting the best value for money! 
One potential benefit of booking online is that some companies offer web-only discounts, so always be sure to keep an eye out for these!
We recommend making a list while you search that includes the names, average cost and average review score to easily compare your potential choices. 
Professionalism and website experience
Another thing to consider is the overall experience of visiting a company's website. You're going to be investing your money and inviting them into your home, therefore you want to feel safe and comfortable doing so.
Read through the entire website and gauge how the company presents itself. Ask yourself important questions such as:
How does the website look and feel?
Do you consider them trustworthy?
Is the booking process made simple and easy?
Book a Wecasa home cleaning service online
If you're struggling to find the perfect home cleaning service online, Wecasa is here to save the day!
We've made the booking process as easy as it can be in just 3 simple steps:
Choose your cleaning service from our wide range of options including one-off cleaning, housekeeping, window cleaning and more. We even offer same-day cleaning for any last-minute needs!

Enter your address details, and the time and date of your request and we'll find an experienced, verified cleaner in your local area! 

Confirm your booking, sit back and relax! If you have any specific requests you can discuss them with your cleaner on the day. Our dedicated team of professionals have years of experience and will be more than happy to accommodate all your cleaning requirements!
Also, the Wecasa cleaning application is available on the App Store and on the Play Store.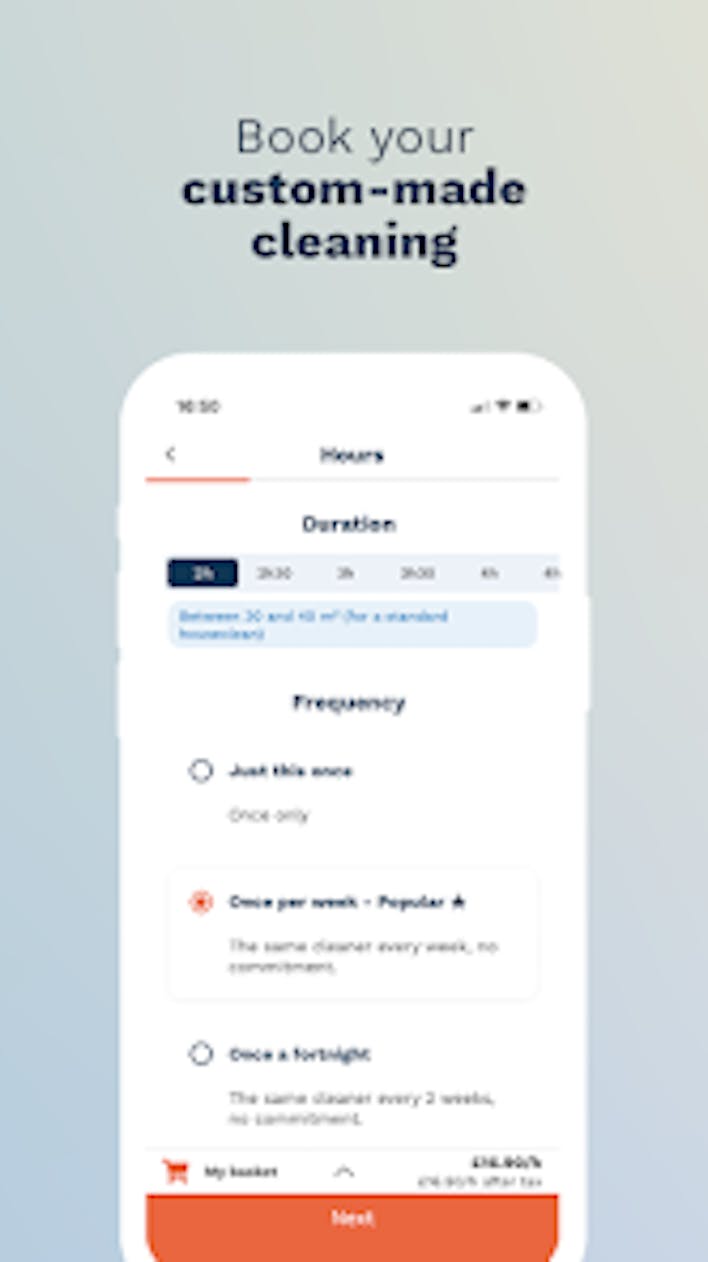 In the meantime why not check out some of the amazing feedback we've received from our wonderful customers!
At Wecasa, we're committed to delivering high-quality results that you're guaranteed to be happy with!