The Ultimate Vacuum Cleaner Buying Guide
Shopping for a vacuum can be confusing - so let us help you out with a complete vacuum cleaner buying guide! We'll walk you through the ins and outs of choosing a new vacuum cleaner, and finding the right fit for you and your home. 
You'll be vacuuming like a pro in no time! 
Essential Factors to Consider When Purchasing a Vacuum Cleaner 
There are tonnes of great vacuum cleaners on the market, so how are you meant to sort through them all and find the right one for you? By following our vacuum cleaner buying guide and noting all of the information below!
Understanding Your Vacuum Cleaner Needs: What to Consider 
Considering your home, lifestyle, and individual preferences is crucial when choosing your vacuum cleaner, below we've explained the main factors to take into account before buying. However, if you need more specifics, check out our top 10 vacuum cleaners!
Factors such as your flooring type, the layout of your home, the presence of pets, and the amount of storage you have are going to affect your decision. 
Key Features to Look for in a Vacuum Cleaner 
There are a couple of key things to keep in mind as you shop for a vacuum cleaner.
For now, here's what to look out for to find the highest vacuum cleaner performance:
Suction Power: Make sure that the vacuum you choose has enough suction power to suit your needs.
Filtration System: Ensure it effectively traps dust and allergens.
Bagged or Bagless: Bagless models save on ongoing costs, but bags might offer cleaner disposal.
Weight and Manoeuvrability: Check if it's easy to handle and move around. This is especially important if you know your house has lots of stairs or difficult corners.
Attachments: Assess included tools like crevice attachments and brush rolls for added versatility. Some attachments can even be used for cleaning furniture and upholstery!
Cord Length or Battery Life: Depending on your preference, consider cord length or battery life for cordless models. This makes a big difference in terms of how quickly and easily you can clean your space
Noise Level: Pay attention to how quiet or noisy it is.
Warranty: Check for warranty coverage, and read user reviews for real-world performance insights.
Comparing Prices: Choosing a Hoover That Fits Your Budget 
It's no secret that vacuum cleaners can be pricey. But, there are still many great affordable vacuum cleaners on the market. 
Sure, you could get a super-modern ultra-tech vacuum for several hundred pounds. But don't discount the cheaper options!
There are many effective vacuum cleaners to be found for under £50 - or even less!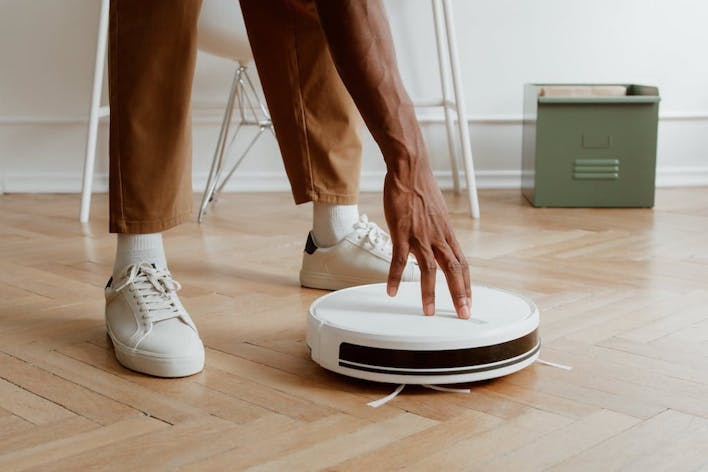 Types of Vacuum Cleaners: A Detailed Overview
Now that you know what you're looking for, let's take a closer look at the different types of vacuum cleaners. You'll be sure to find one that suits you and your home!
Robot vacuums 
A robot vacuum is the ultimate easy cleaning hack. It's a smart device that scoots around your home all by itself, thanks to sensors and brushes. 
It travels all corners of your home, picking up dust, crumbs, and pet hair, keeping your floors tidy without you having to lift a finger. Super handy, and makes a fun and quirky gift for your fellow neat freak!
Corded vacuums
Corded vacuums are one of the more traditional vacuum cleaners. They get their power from an electrical cord, which means they usually have strong suction for deep cleaning. 
But, you'll be tugging that cord around, and finding outlets can be a little chore. 
Handheld vacuums 
Handheld vacuums are smaller, portable vacuums that you'd use for quick, spot cleaning tasks. They're perfect for crumbs, pet hair, and spills in tight spaces, and even car interiors. 
Powered by batteries or cords, they offer convenience and versatility, but might have limited suction power compared to larger vacuum types.
Upright vacuums
Upright vacuums are one of the most versatile options, known for their powerful suction and ability to tackle bigger spaces. They stand upright, with a long handle and a built-in brush roll, making them ideal for large carpeted areas. 
Some models come with additional attachments for versatility, but their larger size can be less manoeuvrable in tight spaces.
Cordless vacuums 
Cordless vacuums are excellent if you're looking for convenience. Being battery powered, you're not tethered by a cord and can scoot around the house with easy mobility. 
While they may have slightly limited run time compared to corded vacuums, their portability and versatility make them a popular choice for many households.
Cylinder vacuums
Cylinder vacuums, sometimes known as canister vacuums, are a household classic. They feature a canister unit with a hose and various attachments for efficient cleaning of floors, upholstery, and hard-to-reach areas. 
While less compact than stick vacuums, they offer strong suction and flexibility for various tasks.
So, that's your complete vacuum cleaner buying guide! Now you've got all the information you need to shop for vacuums with complete confidence and insider knowledge.
And if you decide that vacuuming just isn't your forte, you can always book a professional cleaner through Wecasa to help with the hoovering instead!