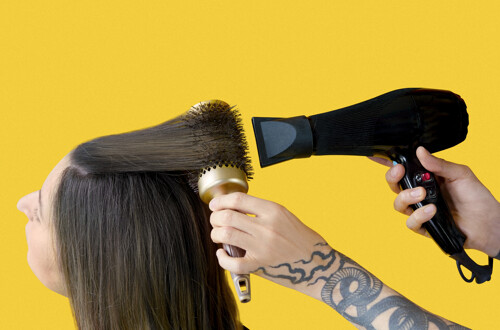 Long Hair Blow-Dry near me
At-home haircut
Secure payment after completion of your appointment
The professional equipment required for a blow-dry.
Wecasa explains...
What does a blow-dry do ?
A blow-dry temporarily shapes your hair. The hairdresser brushes through wet hair while drying it with a hairdryer to create volume or smooth hair depending on the desired result. It is a great way to create a more voluminous look for a special event, date or dinner.
When should I book a blow-dry?
Some of our customers want a blow-dry before a special event or to lift their look after a cut or restyle. Please note that your hair must be washed before your appointment if you have not opted for a hair wash as part of your package.
How to choose the right blow-dry ?
Our professionals can provide different types of blow-drying depending on personal preferences: very straight, smooth, low or high volume. Our professionals are experts on haircare and will be able to create an ideal look suitable for your taste, hair type and face shape. Please note that a blow-dry will only temporarily change your haircut.
The Wecasa hairdressing magic
1. Choose your service
Choose your services, indicate your availabilities. It's today? We'll make it happen!
2. Get matched with a trusted hairdresser
They're experts and right nearby - how convenient!
3. Your pro arrives with everything needed
Enjoy your me-time, at home!
Wecasa's mobile hairdressers
Up to you to choose your Wecasa hairdresser! One thing's for sure: you'll want to invite them back.