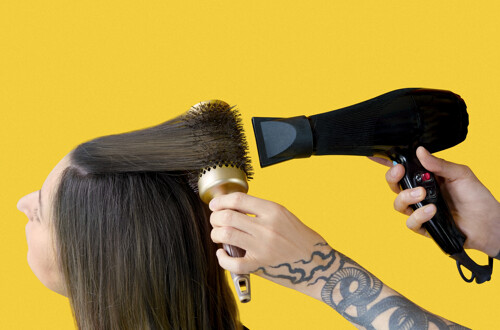 Chic Blow-Dry near me
At-home haircut
Secure payment after completion of your appointment
The professional equipment required for a blow-dry.
Wecasa explains...
What will a chic blow-dry do for me?
A blow-dry is a shaping of your hair. The hairdresser brushes your hair while it is still wet and heats it with a professional hair dryer. In some cases, a straightener may be used. With the elaborate blow-dry, the shape of your hair is worked on in depth, in order to obtain a perfect straightening for your whole hair.
When should I book a chic blow-dry?
A chic blow-dry is a completely separate service, which is given following a hair wash. It's ideal for a special event like a ceremony (as a guest: if you are the bride, please book a bridal hair session).
If you don't want to book a hair wash, your hair must be washed just beforehand in order to carry out this service.
How to choose the right blow-dry for me ?
It's a temporary hairstyle done by your personal hairdresser: a chignon, a bun, plaits, etc. We have a Hair Bar catalogue but you can also tell us what you want. It's ideal for an evening out, or for a specific event.
The Wecasa hairdressing magic
1. Choose your service
Choose your services, indicate your availabilities. It's today? We'll make it happen!
2. Get matched with a trusted hairdresser
They're experts and right nearby - how convenient!
3. Your pro arrives with everything needed
Enjoy your me-time, at home!
Wecasa's mobile hairdressers
Up to you to choose your Wecasa hairdresser! One thing's for sure: you'll want to invite them back.