A Beginner's Guide to Intimate Waxing
Waxing is a popular hair removal method that can be used on various areas of the body, including the intimate area. Intimate waxing is a bit of a misnomer - there's nothing intimate about having a stranger rip hair out of your bikini area. But bikini waxing is a necessary evil for many women who want to avoid the dreaded bikini line razor burn.
Intimate waxing is a beauty trend that's been around for ages and is here to stay, so you might as well get on board! But before you go book your appointment, there are a few things you should know.
This article will teach you everything you need to know about intimate waxing, from who can have it done, to how to prepare for your session, to the different types of intimate waxes. We'll even touch on mens intimate waxing and why you should consider doing it at home with a professional instead of in a salon.
So whether you're a waxing virgin or a seasoned pro, read on for everything you need to know about intimate waxing!


What is intimate waxing?
Intimate waxing is the process of removing hair from around the pubic area, anus, inner thighs, and sometimes even the stomach. It's a popular choice for those who want to keep their intimate areas hair-free, and it can provide a smoother, more polished look than shaving. Plus, intimate waxing can help to prevent ingrown hairs and razor burn.
However, it's important to note that intimate waxing can be a bit of a pain - literally. So if you're thinking of going bare down there, make sure you're prepared for some potential discomfort. But hey, beauty is pain, right?
What are the different types of intimate waxes?
Intimate waxing is no laughing matter. In fact, it's quite a hairy situation (pun intended).
There are so many different types and styles, it can be hard to know where to start. But never fear, we're here to help guide you through the most common types of intimate waxes. 
Out of the many different types of intimate waxes, the most common are the extended bikini wax, the Brazilian wax, and the Hollywood wax.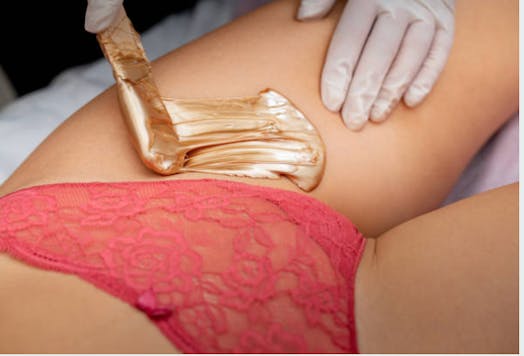 Extended bikini wax
If you're thinking of getting a bikini wax, you might be wondering what exactly an extended bikini wax entails.
Essentially, it's just a bikini wax that goes a bit further than the regular bikini wax. While a regular bikini wax will remove hair from the bikini line, an extended bikini wax will also remove hair from the inner thighs and buttocks. As such, it's sometimes also referred to as a Brazilian wax.
So, if you're looking for a way to keep your bikini area looking neat and tidy, an extended bikini wax might be the way to go.
Hollywood hot wax
What is a Hollywood wax? Simply put, it is a bikini wax on steroids - the Hollywood wax is for those who want to go completely bald.
Unlike a traditional bikini wax, which leaves a small strip of hair in the front, a Hollywood wax removes all of the hair from the bikini area- everything from the labia to the bumcrack. As you can imagine, this requires a high level of precision and skill on the part of the esthetician.
Hollywood waxes first gained popularity in Los Angeles (hence the name), but they have since become popular around the world.
So, if you're looking for a way to completely transform your intimate area, a Hollywood wax might be right up your alley.
Bikini line wax
A bikini line wax removes all the hair from the bikini area, including any hair that would peek out of a bikini bottom or bathing suit. The result is a clean, smooth bikini line that will stay looking good for weeks at a time. Just be sure to find a reputable waxing salon - you don't want to end up with a bikini wax gone wrong!
No matter which type of intimate wax you choose, one thing is for sure: you will be in for a very uncomfortable experience. But it's worth it! After all, who doesn't love a freshly waxed intimate area?
Does men's intimate waxing exist?
Does men's intimate waxing exist? Of course it does! What man wouldn't want to enjoy the benefits of a smooth, hair-free chest or backside?
Intimate waxing for men is becoming more and more popular, as men realize the benefits of having a well-groomed appearance. Not only does intimate waxing make you look great, but it can also help reduce sweating and smelly buildup.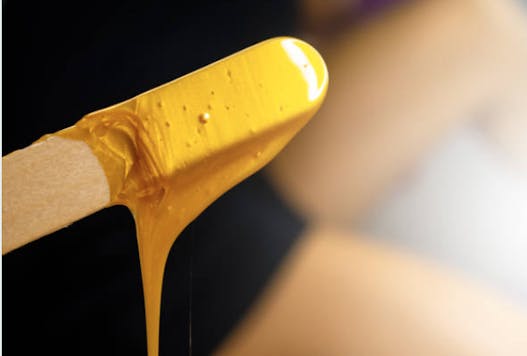 So what exactly is a male intimate wax? Basically, it's anything that involves waxing the hair in and around your bikini area. This can include the shaft, testicles, inner thighs, and even the anus. Intimate waxing is often called a "bikini wax" for men, as it essentially gives you a clean-shaved look in your bikini area.
So if you're considering getting a bikini wax, don't be shy - there's no reason why men can't enjoy the benefits of intimate waxing too!
Is intimate waxing awkward?
When it comes to intimate waxing, there's no such thing as a one-size-fits-all answer. It all depends on your personal comfort level.
For some people, the idea of having someone else handle their most intimate areas is simply too awkward to even consider. First, you have to disrobe in front of a complete stranger. Then, you have to assume some very intimate positions while they spread hot wax on your most sensitive areas. To top it off, you have to hold still and try not to scream while they rip the hair out by the roots. So yeah, intimate waxing can be pretty awkward. But that's all part of the fun, right?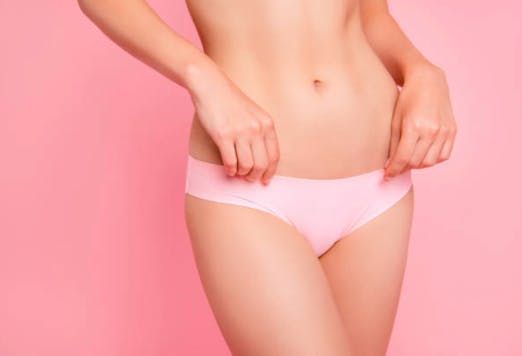 Others find that the temporary discomfort and awkwardness is well worth the results. And some people even find the whole process empowering and liberating!
So, whether you're considering your first bikini wax or you're a regular at the waxing salon, the only person who can really answer the question of whether intimate waxing is awkward is you. But, if you can survive an intimate waxing session, you can pretty much handle anything life throws your way.
Does bikini waxing hurt?
When it comes to intimate waxing, there is no question that bikini waxing can be a sensitive subject - quite literally.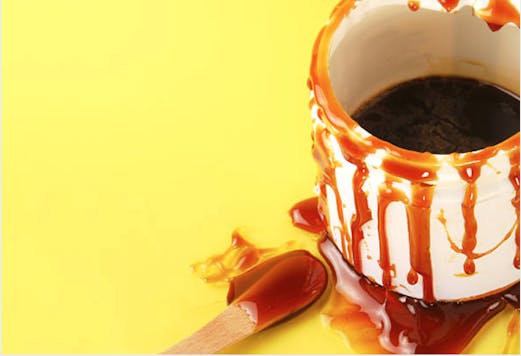 For those who are new to intimate waxing, the thought of having hot wax applied to such sensitive areas can be daunting. But does bikini waxing have to be painful? Absolutely not! In fact, if it is done correctly, bikini waxing can actually be a fairly pain-free process. With a little bit of preparation, you can ensure that your bikini waxing experience is as smooth and pain-free as possible.
The key is to find a good esthetician who knows how to handle sensitive areas with care. Once you find someone you trust, the rest is just a matter of taking deep breaths and keeping your mind focused on something else.
Who knows, you might even find yourself enjoying the process - pain-free!
How to prepare before a bikini wax
No need to fear - with a little preparation, bikini waxing can be a breeze! We'll share with you our best tips on what to do before a bikini wax so that you can be as prepared as possible.
The first thing you need to do is make sure that your hair is the right length. If your hair is too short, the wax will not be able to grip it and it will just end up being a waste of time. On the other hand, if your hair is too long, it will be more difficult to remove. The ideal length for bikini waxing is about ¼ to ½ inch.
Next, you need to make sure that the area is clean. This means no oils, lotions, or anything else that could potentially interfere with the waxing process. Once you're nice and clean, you're ready to go. Clean skin will make the process go more smoothly!
Finally, relax - bikini waxing may not be pleasant, but it's over before you know it. So put aside your fears and enjoy the summer sun worry-free!
Intimate waxing at home
There's no denying the appeal of a bikini wax. Whether you're getting ready for a beach vacation or just want to feel extra confident in your swimwear, there's nothing like a smooth bikini line. However, bikini waxes can be pricey, and they're not always convenient. That's where at-home waxing comes in!
Intimate waxing can be done at home by yourself or by a trained professional, making it a great option for budget-conscious beauty lovers. And when it comes to bikini waxes, there's no need to suffer through the pain alone - you can have a professional come to your house and do it for you.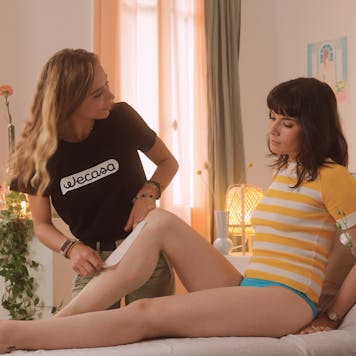 With Wecasa, you can book a mobile beautician to come to your home for a bikini wax, meaning you don't even have to leave the comfort of your own house.
Wecasa is a mobile beauty service that offers bikini waxes in the comfort of your own home. Our trained beauticians are experts at making even the most anxious clients feel relaxed and comfortable. Wecasa beauty technicians are also skilled in many other types of waxes, like leg waxes and underarm waxes, so you can be sure you're in good hands.
Benefits of at-home intimate waxing
There are many benefits to having a mobile professional bikini wax done in the comfort of your own home.
First and foremost, it saves you the time and hassle of having to travel to a salon. With Wecasa, you can book a mobile beautician who will come to your location at a time that suits you.
Secondly, it allows you to relax in your own surroundings - there's nothing like being in the comfort of your own home to help you relax and feel comfortable.
Finally, at-home waxing is often more affordable than salon waxing. Wecasa offers competitive rates for all of our services, so you can be sure you're getting a great deal.