Interested in hair removal at home from a mobile waxing service but are looking for more information?
Whether you're a beginner who has never tried hair removal before or you're a waxing professional just interested in learning more about hair removal, here are some frequently asked questions about hair removal at home.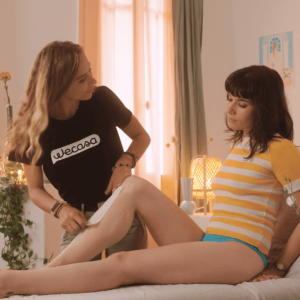 Do I need to have hair removed?
First of all, it is not obligatory; hair removal remains a choice specific to each woman (and each man)! It's up to you to decide how comfortable you feel with your body. Moreover, hair removal trends vary through time, from very light hair removal in the 1970s to the full hair removal in vogue a decade later.
Women decide to have hair removed for aesthetic reasons and/or for comfort. It is true that there are some identifiable advantages in having soft skin, free of all hair. Women can wear small dresses in summer and feel comfortable under several layers of clothing in winter!
Should you remove your hair yourself or with the help of a beautician?
Again, it's up to you. You can absolutely remove your hair yourself. You will find powerful tools on the market; electric epilators, waxes, etc. However, there are two main advantages to using a professional:
You are guaranteed a flawless result.
When you remove your hair without any help, reaching certain areas is not easy; neither is removing stubborn stray hairs! The home beautician takes care of everything for you, to leave the skin clean and soft.
You are not at risk of injury and/or harm. The beautician follows a protocol to remove your hair safely and she has professional equipment that is not accessible to non-specialists: specific wax, tools to heat it up and apply it flawlessly.
You can also decide to remove your own hair from certain areas such as the armpits, and entrust the pros with removing hair from the legs and/or the bikini line, which is especially difficult to do alone.
Which areas should be prioritised for hair removal?
The decision is yours; there are no rules. Some women will choose to remove the hair from only the top or bottom half of the legs, others will feel more comfortable by doing the entire leg. What counts above all else is what you want and your comfort.
Wecasa offers women's home hair removal for the various parts of your body: legs (half-legs, thighs, full legs), arms (half-arms, full arms, armpits), bikini line (basic, Brazilian, partial, full) or face (lips, eyebrows, chin). Obviously, special care is taken with all delicate areas of the body.
How do I choose the right type of hair removal for the bikini line?
This is a question our clients ask a lot and not always easy to explain! Again, the choice is completely up to you and your personal preference. There are many different styles to choose from! We tell you everything in this article about bikini line hair removal.
What are the differences between hair removal at the salon and a mobile hair removal service?
At a salon, you have to remember to make an appointment for hair removal. Some salons offer walk-in hair removal sessions but you sometimes have to wait a long time before seeing a beautician.
At home, managing your schedule is much simpler: you book the home hair removal service that is best for you in a few clicks and the beautician comes to your home at the time you have selected. No need to book in advance or wait at the salon! The other advantage of home hair removal is that your privacy is respected. Because it is not always easy to get hair removed in side rooms at the salon, next to other clients! At home, you are at ease, in your own little cocoon. You can get changed easily and take a shower before and/or after the hair removal for even more comfort. You are also in a setting that lends itself better to sharing your desires, your expectations and your fears with the beautician. There is no harm in being cosy! Tell the person who will take care of you what you want and they will do everything they can to make sure you have a pleasant time.
What are the classic hair removal techniques?
Here are the most effective hair removal methods. We are not talking about shaving, which has the advantage of being fast but with short-term results.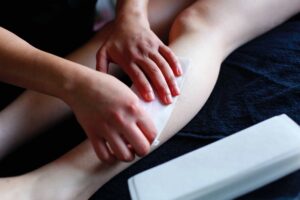 Wax: it is a flagship product for hair removal, formulated with resin and beeswax.
Almost painless when performed by a professional: this method is very effective. Hair grows back more slowly because the bulb is removed during hair removal. The wax can be used hot or cold, with or without strips according to your preferences. Waxing is the most reliable technique used by Wecasa beauticians.
Thread hair removal: this is an ancient technique used in India particularly. Ecological, economical and fast, all it takes is a thread that is twisted in order to trap the hair between the two ends so that it can removed up to its root. It is normally used for facial hair removal, especially the eyebrows but can also be applied to other parts of the body.
Electric epilator: this is a method of hair removal that is developing more and more. An electric epilator ensures a clean result that lasts a fairly long time (3 weeks); thanks to suitable new accessories, this includes even the most sensitive areas such as the bikini line. Quite painful in the early stages of use, the pain subsides over time. Be careful, the electric epilator can sometimes cause skin irritation.
Permanent: also called intense pulsed light hair removal (or permanent hair removal), this is a method that promises you long-lasting smooth skin. The pulsed light heats the hair in order to destroy it entirely. This definitive hair removal technique can be carried out both at home and at the salon and guarantees you a result after several sessions (5 to 8) depending on the area to be treated. In theory, this technique is completely safe but is still not recommended for use on pregnant women, people with diabetes or with blood disease.
How do I find the right professional to perform hair removal at home?
Finding the ideal person for home hair removal is essential! The crucial question: how do you know if you are dealing with a good professional?
Several elements will put you on the right track:
With a real professional, the pain is considerably lessened and hair removal becomes (almost) pleasurable. We said almost, didn't we? ?
A real professional listens to you, asks you if everything is OK and ensures your comfort throughout the session.
A real professional removes your hair according to your needs and respects what you want. She will ask you what your preferences are and will perform the hair removal making sure she doesn't forget anything.
Finally, it's up to you to decide on the criteria that are important: maybe you want to chat while the hair is removed, maybe you prefer to keep quiet. In this case, you will feel better with a professional that really suits you.
Do not worry at all if you need to try out home hair removal with several people if the first one does not suit you. On the Wecasa website, you can decide to use the same professional for each session or say that you would prefer to try it with someone else. And this is done with a single click, without having to give a reason!
Where is the home hair removal service performed?
It's up to you to choose the room in which you feel most comfortable. Many clients choose their living room, on their sofa; of course, the beautician will lay a towel on it to protect it. Some professionals also have their own table, which they put wherever you would like it. But if you feel more comfortable on your sofa, do not hesitate to say so! Once again, the advantage of having hair removed at home is being able to be comfortable and makes choices without any constraints.
How long does hair removal take?
It all depends on the areas the hair is to be removed from but know that a real professional will save you time. When it comes to hair removal, precision is essential. Here is an indication of the times to be expected: 15 minutes for half-leg hair removal or a Brazilian bikini line, 30 minutes for whole legs or a full bikini line. For more information, do not hesitate to consult our guides: bikini line hair removal, leg hair removal, lip hair removal, eyebrow hair removal.
How much does hair removal cost?
Wecasa offers mobile waxing services at very affordable prices. For example, allow £8.90 for the lips, £9.90 for eyebrow hair removal, £10.90 for armpits, £16.90 for half-legs, £27.90 for whole legs, £11.90 for a basic bikini line, £19.90 for a Brazilian bikini line, £23.90 for a partial bikini line and £29.90 euros for a full bikini line.