What are the benefits of working as a housekeeper?
Are you interested in securing a role as a housekeeper? Have you considered the potential advantages of such employment?
Working as a housekeeper can offer some fantastic perks that shouldn't be taken for granted, from competitive wages to flexible hours.
In this blog post, we will explore all the benefits of becoming a professional housekeeper working in London or Manchester!
We'll look at why now is an excellent time to apply for such work and provide detailed information about how to get started.
Overview of the job - duties and responsibilities
What is a housekeeper? A housekeeper is a vital member of the household and is responsible for maintaining the cleanliness and organization of a residence.
Their duties can vary depending on the employer and the size of the property, but generally include cleaning and tidying rooms, doing laundry, changing linens, and organizing storage spaces. They play a crucial role in ensuring that the household runs smoothly and efficiently.
What skills are required to become a domestic cleaner?
A housekeeper's responsibilities require a keen eye for detail, impeccable time management skills, and a willingness to adapt to changing demands. It's a demanding job, but for those who are dedicated to keeping spaces clean and tidy, it can be incredibly rewarding.
Benefits of working as a housekeeper in the UK
Working as a housekeeper in the UK comes with a myriad of benefits that make it an attractive career option.
For starters, you can expect a competitive salary that reflects your skills and experience. Furthermore, job security is a given thanks to the high demand for housekeeping services, especially in urban areas.
But perhaps the most alluring aspect of this line of work is the flexibility it offers in terms of working hours.
Whether you're looking for a full-time or part-time gig, you'll find plenty of opportunities to suit your needs. So if you're considering a career change or just starting out, becoming a housekeeper in the UK might be just the thing for you.
Find a job as a housekeeper – advertising your services online or through agencies.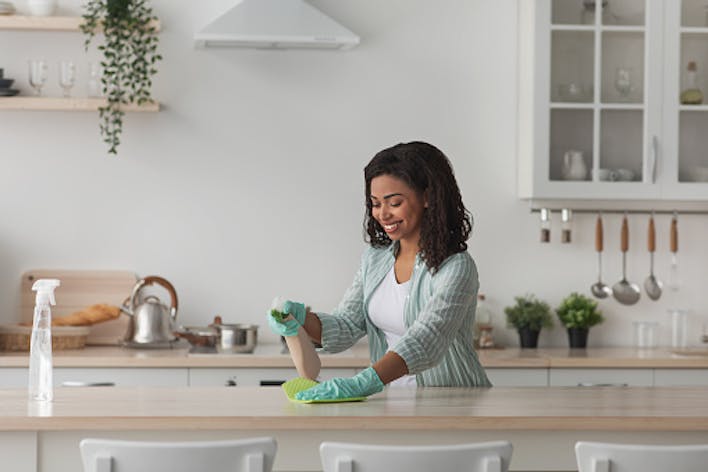 If you're looking for a new opportunity as a housekeeper in the UK, there are a variety of avenues you can explore to find your next post. Many candidates opt to advertise their services online, utilising platforms such as the Wecasa App to connect with potential employers.
Offering details of your availability, rates, and experience can help you stand out from the crowd, particularly if you can include references from previous satisfied customers.
Alternatively, you might consider reaching out to an agency specialising in domestic employment, which can recommend positions and put you in touch with appropriate households. Whether you decide to go it alone or enlist the help of an expert, it might be helpful to have a clear idea of your strengths as a housekeeper, from your cleaning abilities to your punctuality, and to communicate these effectively to potential employers.
Good luck in your job search!
Related reading: How much does a housekeeper earn?
Requirements for working as a housekeeper in the UK – qualifications and experience
If you enjoy keeping things tidy and organised, and are considering a career as a housekeeper in the United Kingdom, then there are a few requirements to keep in mind.
Firstly, while there are no specific qualifications needed to become a housekeeper, it is important to have a good standard of English and basic skills. Having experience in a similar role, whether it be in a hotel or private residence, can also be advantageous.
An agency can provide some guidance on how to proceed to become a professional cleaner in the UK.
Ultimately, attention to detail, good communication skills, and the ability to work independently and as part of a team are all highly valued in the world of housekeeping.
In-demand skills for housekeepers in the UK
Housekeeping is an essential and highly sought-after role across the UK, and the demand for skilled individuals in this field is rapidly increasing.
While a housekeeper's responsibilities can vary, there are a few core skills that are essential to succeeding in this role. Communication is crucial, as housekeepers need to understand their employer's needs and preferences to ensure they provide the best possible service.
Attention to detail is also essential, as housekeepers must ensure that every task is performed to a high standard. Further, multitasking abilities enable housekeepers to efficiently manage their time and complete multiple tasks simultaneously. By mastering these in-demand skills, housekeepers in the UK can excel in their role and provide exceptional service to their clients.
Tips for success when working as a housekeeper in the UK: TRY WECASA
As a housekeeper in the UK, it's important to have a few tips up your sleeve to ensure success in your role.
Firstly, always make sure you have a clear understanding of your employer's expectations and preferences, and communicate openly with them to ensure you're meeting their needs. Then, stay organized and create a schedule to make sure you're cleaning efficiently and effectively.
Another key tip is to stay adaptable and take initiative when it comes to tasks. If you notice something needs to be done, don't wait to be asked! But the best way to ensure your success as a housekeeper is to sign up with Wecasa.
Their platform connects you with top-rated cleaners who have passed rigorous background checks, ensuring you get the best quality service with ease and convenience. So if you want to take your housekeeping skills to the next level, try Wecasa and experience the difference for yourself!