House cleaning is no easy task. It can be tedious, time-consuming, and downright frustrating. But it doesn't have to be!
With the right tools and a little bit of know-how, you can clean your house from top to bottom in no time.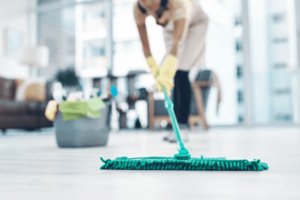 Check out this ultimate house cleaning checklist to get started!
Start with the basics
The first step to a spotless home is to clean the basics. This includes sweeping, mopping, and vacuuming the floors.
Tackling the floors first will make the rest of your house cleaning go much more quickly and easily.
Make sure to pick up any large debris items off of the ground before sweeping and vacuuming to make your job a little bit easier.
Dust all surfaces in every room
This includes shelves, blinds, and light fixtures. Dusting all of the surfaces in each room will help to eliminate any cobwebs or other pests that may be lurking.
Be sure to pay special attention to high-traffic areas, such as doorways and entryways. These areas tend to get dirty quickly and are often missed during house cleaning.
Don't forget to dust ceiling fans and other high surfaces, as well.
These areas can be hard to reach, but the extra effort is well worth it in the end.
Tackle the bathroom
The bathrooms are usually one of the dirtiest parts of the house.
Start by cleaning the toilet and sink. Then, scrub down the shower and bathtub. Finally, wipe down all of the surfaces in the bathroom.
Some of the best cleaning products to use in the bathroom are vinegar and baking soda. Be sure to rinse everything well when you're finished to avoid any streaks or smudges.
Clean the kitchen
Next up on the house cleaning checklist: the kitchen.
Wipe down counters and appliances, scrub the sink and stove, and clean out the refrigerator.
The kitchen is usually one of the most-used rooms in the house, so it can get pretty messy fast.
The best way to clean the kitchen is to work from top to bottom. Start by wiping down the counters and appliances. Then, move on to the sink and stove. Finally, take care of the refrigerator.
Be sure to use a degreaser for the stove and oven. Vinegar and baking soda are also great cleaning products for the kitchen.
Don't forget to sweep and mop the floors too!
If you missed cleaning the kitchen floors in the first step, now is a great time to tackle them.
Clean the windows inside and out
Window washing is often one of the most dreaded tasks of house cleaning, but it's a necessary evil.
All you need is a bucket, some ammonia-free glass cleaner, a squeegee, and some rags.
Fill the bucket with warm water and add the glass cleaner. Squeegee the windows from top to bottom, then use a rag to clean up any remaining streaks.
Be sure to clean both the inside and outside of the windows for a perfectly streak-free finish.
Be sure to give the window blinds some love as well! Window blinds can be a pain to clean, but they should be done at least once a month.
Pro tip: Don't forget to clean the window tracks! They can often be overlooked, but they can get pretty dirty over time.

Wipe down all windowsills and baseboards
Window sills and baseboards are also often overlooked during house cleaning, but they can easily get dirty.
Wipe them down with a clean cloth to keep them looking fresh.
The easiest way to prevent your baseboards from getting dirty in the first place is to keep them dusted on a regular basis.
Read more: Best household cleaning products and how to make your own
End with the bedroom
The bedroom is often the last room to be cleaned, but the most important!
Having a clean and well-organized bedroom is the secret to a good night's sleep.
Start by making the bed. Then, take care of any dirty laundry and put it away. Finally, vacuum and/or sweep the floors.
Be sure to dust all surfaces in the bedroom you may have missed before, including the ceiling fan.
Pro tip: Light a candle in the bedroom after cleaning for a fresh, clean scent and finishing touch.
Wecasa's House Cleaning Tips
Set a schedule
One of the best ways to make house cleaning easier is to set a schedule and stick to it.
Dedicate a certain day of the week (or month) to each room in the house. That way, you'll never have to worry about forgetting to clean a certain area.
And be sure to keep your cleaning supplies organized and easily accessible so you can grab them when you need them!
Read more: Regular or one-off cleaning: Which one to choose?
Call on a professional
Too busy or simply just can't be bothered to do the cleaning yourself? Call on a professional!
There are many house cleaning services that will do the job for you – and often times, they offer a great rates for first-time customers.
House cleaning can be a hassle, but it doesn't have to be with the help of a professional service.
Wecasa domestic house cleaners provide services all throughout the London area, with prices starting at just £15.90 per hour of cleaning.
Need an ironing service? Wecasa does that too!
Read more: 5 Reasons to hire a professional ironing service
Whether you choose to clean your house yourself or decide to call on a professional, this ultimate house cleaning checklist will have your house looking spotless in no time! Just be sure to work from the top down, and take your time.
Happy cleaning!