Finding new clients for domestic cleaning jobs when you are a housekeeper or domestic cleaner is not always easy. To create a good reputation and develop your network, we give you all our tips. Word of mouth, canvassing, online advertisements, registration with a service provider … Discover all the methods to find clients in the household sector!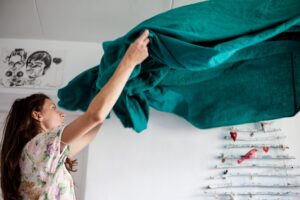 Finding domestic cleaning clients through word of mouth
If you are a domestic cleaner or housekeeper and want to make yourself known to attract new customers, word of mouth is the first thing to do. Tell your friends about your cleaning services, who in turn will be able to tell their acquaintances about you. To do this, always have business cards with you to distribute them during your various exchanges. Remember, there is no better advertisement than that of a satisfied customer! This is why you have every interest in establishing a bond of trust with your first customers so that they can recontact you but above all recommend you!
Offer cleaning services to local sites
To find customers and expand your network, consider canvassing. And to do this, do not hesitate to drop business cards, flyers or announcements of your cleaning services in local shops in your city such as bakeries, hairdressing salons or even real estate agencies which often need cleaning services. You can also canvass the inhabitants of your neighborhood by placing advertisements in mailboxes or even go to your town hall, which may possibly give you some leads and contacts.
Post domestic cleaning announcements online
Many people search the Internet for housekeeping and domestic cleaning services. To promote yourself and find new clients, do not hesitate to send prospecting emails to companies that may need your cleaning services. You can also publish free or paid ads online on specialized sites and directories. Sites allow you to be put in touch with individuals and businesses in your region or even offer the possibility of posting professional advertisements for free.
Stand out from competition
To find new clients for cleaning services, it is recommended to stand out from the competition. Here are several ways to achieve this:
Developing your network on the internet and on social networks: what could be better than having an online storefront to talk about your services and attract new customers? You can create your own website, create a Google My Business page to appear on Google maps or even be present on social networks by creating a Facebook page or a Linkedin profile.
Highlight customer opinions and recommendations: by being present on the internet and on social networks, you will be able to highlight all the reviews and recommendations that your customers have left you. Once again, it is your loyal customers who will make your reputation and who will therefore be your best publicity!
Take a course of action: To set yourself apart from the competition, you can also take a certain course of action. For example, you can choose to use only natural and environmentally friendly cleaning products and thus become an eco-friendly housekeeper! A specialization that will not go unnoticed …
Use a service provider or an online marketplace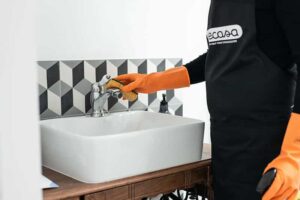 While working as a self-employed domestic cleaner offers many advantages (such as freedom), there are still some disadvantages. Indeed, it requires finding customers yourself but also taking care of all the administrative, fiscal and regulatory burden. To save time and facilitate your administrative procedures, the ideal solution is to call on a service provider such as Wecasa. Not only does this allow you to benefit from a reassuring and stable working environment, but in addition, you will no longer need to find customers or manage collection, invoicing, pre and after sales service since Wecasa takes care of everything!
To be part of the collective of Wecasa pros as a domestic cleaner, you must have experience in cleaning with private individuals, and be registered as a self-employed person or as a company.