Booking the best deep house cleaning services near me
Let's face it, deep cleaning the entire house is not always the most exciting part of the week! If you're not a confident cleaner, it can often take up many hours that could be better spent doing the things you love! 
Deep cleaning services are the ultimate solution to this problem, but booking the best one for you can be a bit tricky at first. That's why we've created this guide to help you along the process! We'll explain what to look for in a trustworthy cleaning company and the best ways to find a deep house cleaning service near you.
What to look for in a professional deep cleaning service near you
Before you schedule your first cleaning session, there are a number of factors you should consider to ensure you're booking the best deep cleaners.
Experience and Reputation
A high quality professional cleaning service will have a good reputation within your local community and plenty of years operating in the industry. Read online reviews and ask your neighbours if they have had any experience using any potential candidates. Positive feedback from each will provide you with valuable information to help you make your choice!
Quality of Service
The best deep house cleaning services will go above and beyond to secure your custom. They'll take you through a clear booking process and tailor a bespoke cleaning checklist for your home. Not only that, they'll use high-quality cleaning products and equipment to ensure the job is done properly! It's these small details that add up to create a great customer experience.  
Communication and Customer Service
The best cleaning services should always be easy to communicate with and put customer service above everything else. They should be able to provide a clear and detailed estimate for their services and be responsive to any questions or concerns you may have!
How often should you schedule your deep clean?
The frequency at which you should book deep cleaning for your home depends on a number of different factors:
Size of your home: Larger homes may need more frequent cleaning
Number of occupants: If you have a big family or lots of pets, then you may consider regular cleaning
Lifestyle: If you entertain guests regularly or have a particularly busy schedule, then you may not have the time to deep clean yourself.
On average, we would recommend a top-to-bottom deep house clean at least once every 3 months and perhaps weekly or biweekly spring-cleaning in between to maintain tidiness and clutter.
Related reading: How much does deep cleaning cost in 2023?
The process of booking a deep house cleaning service
Booking the best deep house cleaning service can be a little daunting at first. How do you know if they are going to be right for you? What's the best way to schedule an appointment? We've broken down the process into some simple steps:
1. Research
The first step is to do research and choose a reputable cleaning service that meets your needs. Look for a service with positive reviews that operates in your local area and has a track record of delivering high-quality cleaning services.
2. Contact the cleaning service
Once you have identified a potential domestic cleaning service, reach out to them to inquire about their services and availability. The best cleaning services will be responsive and readily available to answer all your questions.
Questions to ask before booking
What's included in your deep house clean?
Do you provide cleaning supplies or equipment?
What level of experience do your cleaners have?
3. Schedule a consultation
Many cleaning services offer a free consultation where they can assess your home and provide recommendations for a cleaning plan that meets your needs.
4. Set a date and time
Once you have agreed on a cleaning plan, it's time to set a date and time for the cleaning service. Make sure to confirm the date and time with the cleaning service a few days in advance to avoid any scheduling conflicts.
5. Enjoy your clean home!
Once the cleaning has finished, take some time to enjoy your clean and sparkling home! Don't forget to provide feedback to the local cleaning service so that they can continue to improve their services.
Booking a local Wecasa deep clean near you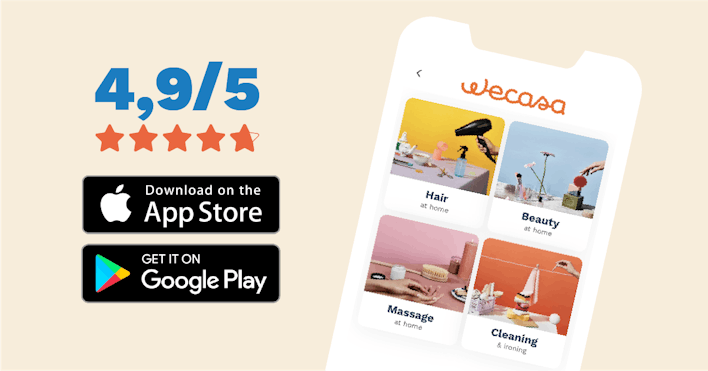 If you're struggling to find a deep house cleaning service you can rely on, then booking a Wecasa cleaner is the ultimate solution! 
Our local domestic cleaners, situated across all parts of the UK, are highly trained and dedicated to providing top-notch cleaning and professional customer service. 
We specialise in top to bottom deep cleaning, but also offer a range of home cleaning services such as end-of-tenancy cleans, housekeeping services and window cleaning. However bad the mess becomes, we've got you covered! 
To book a cleaner today, simply enter your address details below, choose a time and date, and we'll find a trustworthy, dependable cleaner in your area!