Some say the arrival of the sunny Spring days leaves you wanting to do a big spring cleaning!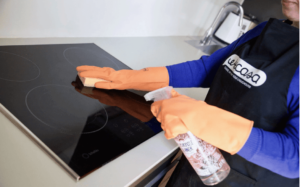 After reading Marie Kondo's The Magic of Tidying Up, you also might be dreaming of a tidy and clean interior. Decluttering is good, but deep cleaning everything is better. Doing a spring cleaning usually takes time… something that a lot of us don't have much of these days.
We know what you're thinking – "It's not for me", "I wouldn't dare bring someone to clean up my mess", "I don't want a stranger to scrutinize everything in my house", "I don't want someone in my private space'…
These preconceived ideas are common for first-time orderers of a domestic house cleaner but I promise you will quickly change your mind!
What is spring cleaning and what are the benefits?
Spring cleaning is an important event that punctuates the year. For many people, it is even a real post-winter tradition. After winter Sundays spent cocooning under the comforter, the return of the sun gives you wings and desires for renewal and productivity. Who doesn't dream of a clean, tidy house that smells fresh?


To feel good at home, there is nothing better than a good spring cleaning. We are instantly happier, fulfilled and serene in an impeccable environment.
Spring cleaning tips for deep cleaning: take advantage
Spring cleaning is an opportunity to clean up things that we overlook on a daily basis. Take a room like the kitchen: there is plenty to do. For example, take advantage of spring cleaning to thoroughly clean your fridge by removing all bins and other baskets. It's the same for the freezer! How about defrosting it? Small appliances such as toasters and coffee makers can also be scrubbed. To descale, there is nothing better than white vinegar. Moreover, lemon juice, Marseille soap, black soap and baking soda complete these grandmother's tips that are so popular today. It's efficient, economical and ecological… What more could you ask for?
Sort out before the deep cleaning
Remember to empty cupboards and drawers to clean everything properly. Maybe it's time to throw out the dried beans bought in 2012 and expired almost as long ago! We all have food lying around in our cupboards for years…just in case. It is clear that the older it is, the less it is consumed. It's just there to take up space and dust. Come on, let's sort!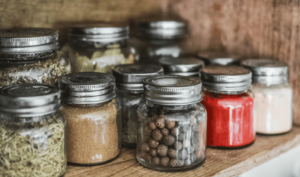 It's a safe bet that a feeling of satisfaction takes over you after completing this dreaded mission. A study has shown that nearly half of individuals do a major cleaning for their well-being. It's good for morale and it's a great way to get on the right foot in good weather.
Why hire a domestic cleaner?
Spring cleaning requires a thorough cleaning… It's not about vacuuming, dusting a few knick-knacks, and that's it. For this deep cleaning, do not be afraid to call on a house cleaning service. It is certain that the tasks are numerous to overcome a spring cleaning.
Leave your spring house cleaning tasks to the pro
Cleaning is an art that is best left to a competent person. No matter how hard you use elbow grease and 12,000 domestic cleaning products, you can't recover the grayer – or even black – tile joints! There are tons of examples like this and so many good reasons to hand over to a housekeeper.
Save time by booking a deep cleaning service
Let's also think about saving time… Before proceeding with the spring cleaning, there is generally a major phase of sorting and tidying up. This very time-consuming step can only be done by you. So why not get a little help for the future?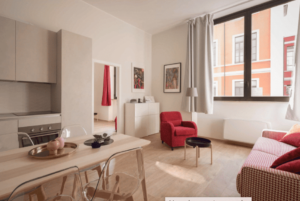 Between work, shopping, children and friends, you don't have a minute to yourself. Does your schedule give you no respite? No worries ! Wecasa removes a thorn from your side by offering you trusted, reliable professionals with validated skills. You will have time to take care of yourself and enjoy the sun.
And then, even if you have time, you may not feel like it or you are tired in advance of the magnitude of the task at hand. Drive away all guilt thoughts and know that we've got you covered. By hiring a domestic cleaner near you, you provide work for a motivated person. So let's relax and delegate the tasks!
How to get organized before doing the spring cleaning?
Calling on a domestic cleaner does not exempt you from doing a little work upfront.
You have two options: Either you let the professional manage everything from A to Z by communicating your spring cleaning wishes, or you make a precise list of your expectations by organizing yourself piece by piece.
Review the places and things in your home that deserve special attention. This allows for optimal efficiency. You can also prepare your favorite utensils and cleaning products. All you have to do is make them available to the speaker. If you miss things, do not hesitate to specify it during your Wecasa reservation.
Spring cleaning checklist
To give you a hand, we have compiled an inventory of the places and things to focus on during a spring cleaning:
Places that are not easily accessible on a daily basis:
Windows (and sills)
The fridge
The freezer (take the opportunity to defrost it)
The inside of the oven
The cooker hood
Garbage cans (kitchen, bathroom, etc.)
Ventilation grilles
The drum of the washing machine
Inside the cupboards
Frames and other paintings hanging on the wall
Tile joints
The shower curtain
Chandeliers
Cushions and rugs
Curtains
radiators
Door handles, switches and electrical outlets
The interior of the sofa
Mattresses
When you can see more clearly in the house, the whole family is delighted!