Uncovering the Role of a Housekeeper
Are you looking for a reliable and professional housekeeper or housekeeping assistant? Whatever the case may be, this article is for you!
We'll delve into what it means to be a housekeeper or housekeeping assistant, outlining the duties and skills needed to be successful.
You'll also learn about the difference between housekeeping and house cleaning and what safety considerations must be taken into account. Finally, we'll offer advice on how to find a good housekeeper or housekeeping assistant who fits your needs.
What is the Role of a Housekeeper ?
A housekeeper, also known as a housekeeping assistant, is a professional cleaner responsible for overall cleaning services, household care, and providing a safe environment for clients.
Depending on their job duties and responsibilities, they typically:
clean windows
dusting
vacuum
mop floors
wash laundry
kitchen
bathroom sanitation
provide grocery shopping & meal preparations.
Additionally, housekeepers may be responsible for pet care, plant maintenance, safety checks for elderly clients, and many other tasks. Housekeepers are available for any type of cleaning services, even same day cleaning services.
a. Definition of Terms
To better understand the role of a housekeeper, it is important to define three key terms: housekeeper, housekeeping, and house cleaning.
In simple terms, a housekeeper is someone who works in a household as an employee or domestic assistant in order to maintain the cleanliness and order of the home.
Housekeeping can be defined as the professional cleaning service provided by a housekeeper to maintain the cleanliness and order of a home.
Finally, general or non-professional house cleaning refers to the regular cleaning chores around the house.
b. Tasks & Responsibilities
The primary responsibilities of a housekeeper are related to cleaning and maintenance tasks :
Cleaning Services: Dusting, vacuuming, mopping floors, window and laundry care, kitchen/bathroom sanitation, etc.
Household Care: Grocery shopping and meal preparation, pet care and plant maintenance, safety checks with elderly clients or special needs individuals.
c. Skills Needed to be Successful in this Role
In addition to performing their cleaning and maintenance tasks effectively, a successful housekeeper should possess several qualities that will increase their chances of success in this role.
These qualities include being organized, detail-oriented, trustworthy, and having a strong customer service orientation.
Additionally, it is beneficial for housekeepers to have experience with various cleaning techniques and supplies, as well as basic knowledge about safety measures, in order to ensure the safety of their clients.
How Does Housekeeping Differ from Regular Home Cleaning?
The primary difference between professional housekeeping and general home cleaning is the professional level of service provided by a qualified housekeeper.
Professional cleaning services offer an additional level of expertise and accountability that regular home cleaning simply cannot match. A professional cleaner will be equipped with the right tools and supplies to effectively clean even the most difficult areas, while making sure that safety protocols are followed at all times.
a. Difference between Professional and Non-Professional Services
Professional cleaning services differ from non-professional home cleaning in many ways. For example, a housekeeper will bring their own equipment and supplies to clean your home, which are typically more effective than standard store-bought products.
Furthermore, they understand the safest practices to clean surfaces, floors and upholstery in order to avoid costly repairs or replacements. Finally, they serve as a reliable source of information for their clients regarding home maintenance.
b. Benefits of Hiring Professional Help with Your Home Cleaning Needs
Hiring a professional housekeeper or housekeeping assistant provides many benefits. Professional cleaning services are much more efficient compared to traditional home cleaning methods, leaving a house looking and smelling immaculate.
Additionally, they help create a safe and healthy environment by cleaning with non-abrasive, eco-friendly cleaning supplies that are safe for children, pets, and the elderly.
Finally, using a professional cleaner allows homeowners to save time and energy that would otherwise be spent on household chores.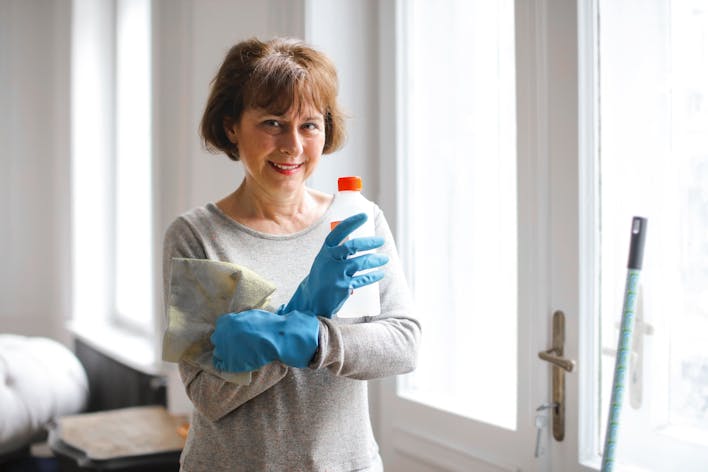 How to Find a Good Housekeeper or Housekeeping Assistant?
Finding a good housekeeper or housekeeping assistant can be a challenging task. As, it is important to find a reliable and experienced self-employed person near you.
Here are some tips to make sure you find a good housekeeper:
Research Different Companies and Services Offered
Investigate the various companies and services provided by various housekeeping agencies to get a sense of the services provided and their costs. This is especially important for those looking for specialized services.
Consider the Cost of Hiring Professional Help
When considering hiring professional help, it is important to take into account the costs associated with such services.
Although professional help may cost more upfront, it can be a more cost-efficient option in the long run compared to purchasing cleaning supplies and equipment.
Don't hesitate to consult a guide for an understanding of the average cost of house cleaning services in the UK.
Ask for References from Friends, Family & Neighbors
Before hiring a housekeeper or housekeeping assistant, ask your friends, family members, and neighbors for their experience with different housekeeping companies in order to get an idea of which companies provide quality service.
Read Reviews Online Before Making Your Final Decision
Once you have narrowed down your options, read online reviews for each of the companies to get an unbiased opinion from those who have used their services.
This will help you make an informed decision before hiring a housekeeper or housekeeping assistant.
What Are the Benefits of Having a Professional Cleaner in Your Home?
Having a professional cleaner in your home can help ensure that your house is maintained to a high standard of cleanliness, safety, and comfort. Professional cleaning services can save homeowners time and energy spent on household chores, while providing peace of mind knowing that their homes are safe and sanitary for their families and guests.
Furthermore, having a professional cleaner at home can help create a more pleasant atmosphere where everyone can feel relaxed and at ease.