Whether you're rocking a natural beard or mustache, or you prefer to be clean-shaven, there's no doubt that facial hair can be a polarizing topic. Some women love the look and feel of facial hair, while others find it completely unsexy. If you're in the latter camp, then read on for everything you need to know about facial hair removal.
We'll cover the various methods available, as well as their pros and cons. So whether you're looking to get rid of that pesky 5 o'clock shadow or take your shaving game up a notch, we've got you covered!
Facial hair removal 101: What are the different types of hair removal?
If you're not a fan of facial hair, there are a variety of ways to get rid of it: waxing, shaving, threading, and plucking are all popular methods of hair removal. Each has its pros and cons, so it's important to choose the one that's right for you.
Waxing is a semi-permanent method of hair removal that can last up to six weeks. It's relatively painless and gives you smooth, long-lasting results. However, it can be expensive and time-consuming.
Shaving is the quickest and most inexpensive way to get rid of facial hair. It's also relatively painless, although it can lead to razor burn or ingrown hairs.
Threading is a more gentle method of hair removal that's well suited for sensitive skin. It removes hair from the root, so it can last up to six weeks. However, it can be painful and time-consuming.
Plucking is an effective way to remove individual hairs, but it can be painful and time-consuming – no one wants to spend an hour plucking their eyebrows!
If you're looking for a quick and easy solution, waxing or shaving is your best bet. If you're looking for something more long-lasting, threading or waxing is a better option.
What areas of the face can you do hair removal on?
In reality, it's completely up to you. You can choose not to remove anything at all, to get rid of only certain hairs, or to pluck all the hair you have on your face.
The 3 main areas of the face that are often waxed:
Which facial hair removal method to choose?
There are a number of hair removal techniques out there, so it's important to find the one that's right for you.
Shave your face
We know it is the easy way out but not the most recommended. The razor is known to be completely painless and quite convenient, but in the long run it is not the best solution. Your hair will grow back very quickly which will lead you to shave your face very regularly and don't forget it is very irritating for your skin!
Using hair removal cream
We don't necessarily recommend hair removal cream on your face. These are products that are often quite harmful to the skin, made up of aggressive products. The facial skin is particularly thin and fragile, it must be taken care of.
Hair removal with tweezers
If you have patience and like precision, this might be the solution for you. Of course, you will have to remove each hair one after the other, but the result will be clear and lasting. This method is particularly used to remove eyebrow hair and is quite practical because we all have tweezers at home. However, it is pretty time consuming to remove each hair one-by-one, and can be quite painful.
Waxing your face
If you're like most people, the very thought of waxing your face is enough to make you break out in a cold sweat. But there's no need to be afraid! With a little preparation, waxing can be a relatively painless experience.
Here's what you need to know about waxing your face yourself:
First, it's important to choose the right wax. There are different types of waxes available on the market, so do some research to find one that's suitable for your skin type. Then, make sure the wax is at the right temperature. If it's too hot, it could burn your skin; if it's too cold, it won't adhere properly to your hair.
Next, it's time to prep your skin. Wash your face with a mild cleanser and exfoliate gently to remove any dead skin cells. This will help the wax cling better to your hair and make for a smoother waxing experience. Finally, apply a thin layer of talcum powder or cornstarch to absorb any excess moisture.
Now you're ready to wax! Starting with small sections, spread the wax in the direction of hair growth and press down firmly with a strips. Then, quickly pull the strip off in the opposite direction and voila – the hair is removed!
Facial hair removal with thread
One of the most popular ways to remove unwanted hair from your face is with threading. This technique can be used for plucking both facial hairs on top of lips and chin as well eyebrows, giving an impeccable result in just two steps!
Laser facial hair removal
Laser hair removal is the only way to ensure permanent facial hair removal. Much more expensive than the others, it is also the most radical method.
Laser facial hair removal is a popular beauty treatment that uses concentrated beams of light to target and destroy hair follicles. The treatment is effective for all skin types and can be used to remove hair from the upper lip, chin, and cheeks.
While laser facial hair removal is generally safe, it's important to consult a professional before opting for this treatment. Also, if you opt for this solution, be aware that you will not be able to epilate with tweezers or wax at least 3 weeks before the start of the laser treatment. You will also not be able to expose yourself to the sun during the treatment, so be careful when you start.
How to prepare your skin for a wax?
Whether you opt for hair removal with a professional or a homemade facial hair removal, there are a few important tips to remember.
Before waxing, clean your face and use an alcohol-free antiseptic solution.
Epilate the area (s) of the face you want. Depending on the method, there will surely be different hair removal instructions. Be careful to use the right gestures.
Pass the antiseptic solution over your face again.
Finish by applying a soothing or moisturizing cream to your skin.
Precautions to take before waxing your face
There can be instances when you find that you are allergic to one of the products in the wax, cream or shaving gel that you are using to remove the hair on your face. It is therefore important to test the product on a small part of your skin before using it to avoid any irritation or allergic reaction.
If you have eczema-type skin problems or psoriasis, seek advice from your dermatologist because some of these hair removal products are quite irritating and could damage your skin.
Facial hair removal at home with a professional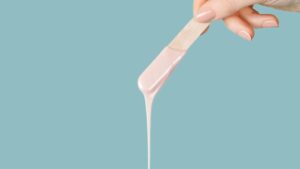 We highly recommend leaving the waxing to a professional, especially if it's your first time trying hair removal. This way, you can be sure that the hair removal technique is done correctly and as pain-free as possible.
Why go to a beauty salon for a wax when you can just as easily get one from the comfort of your own home? Our Wecasa beauticians come directly to you, so there's no need for travel! Plus they'll do it quickly and professionally.
For those who enjoy getting pampered at salon-quality services but don't want to leave their driveway or office desk — this one's for you. Wecasa mobile beauticians provide a number of other services as well as waxing, including: