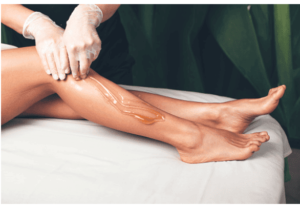 Sugar waxing is the latest trend in hair removal. It is said to be less painful than traditional waxing, and the results last longer. But what is sugar waxing, exactly? And are the benefits worth the hype? Keep reading to find out!
What is sugar waxing?
Sugar waxing is a hair removal treatment that uses a sticky mixture of sugar, honey, or syrup to stick to the hairs and pull them out from the root. It's said to be less painful than other forms of hair removal like waxing and it leaves the skin feeling smooth.
Benefits of sugar waxing
Sugar waxing is said to be less painful, which for many people makes it a more attractive treatment option. The results also last longer than shaving and because sugar wax removes hairs from the root, your skin looks smooth for longer.
Since sugar wax is made up of simple ingredients that can easily be found in your kitchen, it doesn't contain the chemicals found in traditional waxing treatments, which makes it a more natural way to remove hair.
And even better – you can make it yourself at home!
So, if you're looking for a long-lasting solution and don't mind a bit of pain (or even enjoy it!), sugar waxing might be the best option for you.
You can also skip costly trips to salons and skincare specialists by doing your own sugar waxing treatments right in the comfort of your own home!
The difference between sugar wax and cire wax
Cire wax is a type of hard wax that uses mineral oils or petroleum jelly to remove hair from the root. The difference between cire and sugar wax is that cire wax is much thicker and doesn't need to be removed with strips.
Cire wax is made of beeswax, whereas sugar wax is made from a mixture of simple ingredients. The main advantage of cire wax over sugar wax is that it can be spread like butter when applying, whereas sugar wax tends to get hard faster, making it difficult to work with. Cire wax also has fewer ingredients than sugar wax, which makes its use more natural and organic.
Sugar waxing is a great alternative to traditional hair removal methods, because it's less painful for most people and the results last longer. Whether you choose sugar wax or cire wax, you'll enjoy smoother skin that lasts for longer!
How to book a sugar wax in London?
Looking for waxing services in London?
Whether you decide on a sugar wax or a cire wax, don't hesitate to call on a professional.
Wecasa beauty therapists can do both!
We have a team of licensed and professional beauty therapists at Wecasa, so feel free to book an at-home waxing session with us.
Our waxing professionals offer a variety of at-home waxing services including:
Book an at-home wax with Wecasa
Booking a wax with Wecasa is as simple as ever:
Head to the Wecasa beauty page and enter your postal code
Choose the type of waxing service you'd like and select the date and time that suits you best
Enter your debit or credit card details (to be credited after the service is completed)
Voila! Sit back, relax, and let Wecasa choose the pro best suited for your needs, to arrive on the appointment date you selected.
Wecasa will book the appointment for you and notify you when we have matched you with a beauty professional, so there's no need to worry about anything.
And of course, all our beauty therapists are highly trained and qualified, so you know your hair removal service with Wecasa is in safe hands.
So hire an at-home waxing professional today!