Whether you have oily skin, dry skin, or a combination of both – the winter weather can be very harsh on your skin. Here are some winter skin care tips to help your skin survive winter's wrath.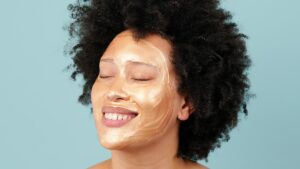 Top 9 Winter Skincare Tips
Protect against the elements
Protecting your face is the first step to winter skincare. The harsh winter elements can wreak havoc on your face if it isn't protected, but fortunately there are ways to do this without turning yourself into an ice queen.
Remember to always cover your face when you go outside, and to moisturize it with a winter moisturizer.
Don't skip your nighttime routine
Always remove all of your winter makeup before going to sleep. Your winter skin care routine should include removing winter makeup so you don't clog up your pores with dirt and other winter elements. Also, washing your face before bed is crucial in winter skin care.
Scrub, scrub, scrub
Exfoliating your winter skin in the winter (and any other time of year) is a major key to having healthy, hydrated skin. There are various winter exfoliating products available that you can try, but if you don't have any, salt is always a good winter exfoliator. Salt scrubs can be found at almost any drug store and they're also really easy to make.
Moisturize
In winter, you need to moisturize more than in the summertime. In winter, your skin can get very dry, especially if you live somewhere that sees a great deal of snow and ice. Be sure to apply winter moisturizer every day before going outside.
If your winter skin care routine doesn't include a winter moisturizer, be sure to pick one up as soon as possible.
Adjust your skincare routine
If you live somewhere that has winter cold spells, adjusting your winter skin care routine for the weather can make it much easier on your winter skin. When winter cold spells hit, protect your face with winter-appropriate covers like scarves and parkas so you don't have to layer winter moisturizer and winter foundation like you do in the winter.
Double check which products you're using
Watch out for winter skin care products that aren't winter friendly – such as summer tanning lotions. Don't use these on your face when it's cold outside, because they can actually cause more damage than good.
Winter-proof your skincare
Always winter-proof your winter skin care routine by checking labels for winter-specific ingredients such as shea butter and winter vitamins. These ingredients will help protect your winter skin from drying out or getting brittle in the wintertime.
Stay hydrated
Don't forget to drink lots of water – it's important in winter and any other time of year. Staying hydrated is the one of the most important things you can do for good skin health, and the best way to stay hydrated on the outside is from the inside!
Don't forget the sunscreen
In wintertime, always wear sunscreen even if you aren't going outside. The sun reflects winter elements like snow, ice, and wind that can have just as much of an effect on your winter skin as being outside in them. Always wear sunscreen to protect yourself from winter sun damage.
Do regular facials and skincare treatments
Opt for regular facials and skin care treatments by a professional. This is one of our winter skin care tips that is crucial for winter skin health, because winter can be a very harsh time on your face. Facials and other types of winter skin treatments will help keep your winter skin soft, smooth, and moisturized all winter long.
Read more: Everything you need to know about a purifying facial treatment
Wecasa has a network of qualified estheticians and mobile beauticians who offer many at-home facials and skincare treatments including:
Calling on a professional to come to your home and provide your skin with the tender love and care that it needs this winter is the best way to ensure you keep your skin feeling fresh, hydrated, and glowing – even throughout winter's harshest months.