In the many facials offered by beauticians at home or in institutes, we often find one called purifying facial treatment. What is that ? Who is it for and how does it work?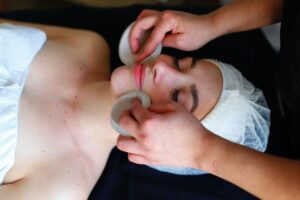 We answer all your questions and tell you everything you need to know about purifying facial treatment!
What does a purifying facial treatment consist of?
A purifying facial treatment focuses, in several stages, on deep cleansing of the skin. It is particularly appreciated for cleansing and purifying the skin. The goal? Eliminate dead cells, unclog pores and rid the polluting substances that the skin faces on a daily basis.
The Result: the purifying treatment gently regains matte and exfoliated skin.
Note: if you do not yet have a beautician or if you have the habit of changing professionals during each treatment, always remember to seek advice before embarking on a facial treatment. Indeed, the esthetician must always carry out a diagnosis of your skin to know its type and thus advise you as well as possible on the care which it would need.
For example, if your skin needs more hydration than a deep cleansing, your beautician may recommend a moisturizer or radiance treatment rather than a purifying treatment.
Who should get a purifying facial treatment?
Because it helps rid the skin of impurities, the purifying facial treatment is particularly recommended for combination skin, oily skin, acne-prone skin, skin prone to blemishes (blackheads and redness for example) and in particular for young skin.
For other skin types, the purifying treatment can be used as a detox effect if done occasionally. It is also recommended for people living in an environment affected by pollution. Finally, a purifying facial treatment can be used to accompany a change of season which can upset the skin's balance.
How does a purifying facial treatment work?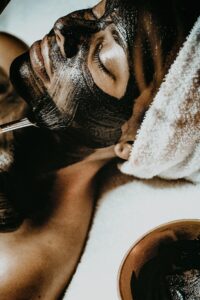 The purifying facial treatment is divided into several stages. To begin with, the beautician will prepare your skin for its deep cleansing by removing make-up. Once your skin is cleansed, she will then proceed to apply a scrub to remove impurities and dead skin, unclog the skin pores, remove excess sebum and thus smooth the skin texture.
Depending on your skin type, the beautician may suggest that you extract comedones (the famous blackheads). When your skin is free of all impurities, the cleansing treatment usually ends with the application of a purifying mask and the use of a treatment cream to tighten the pores and hydrate the skin.
Purifying facial treatment at home, what are the benefits?
The purifying facial treatment can be performed by a beautician at home as we offer on Wecasa. And being pampered in the living room (or other rooms in the house) includes many benefits, the main one being having an expert just for you! Indeed, Wecasa beauticians have been rigorously chosen to satisfy you and will be able to advise you perfectly on what your skin needs.
By calling on a beautician at home, you can ask all your questions and take the time to learn about the actions to adopt in your daily beauty routine in order to benefit and prolong the effects of the purifying treatment. By staying at home, you will have no risk of being disturbed by a phone call or by other clients as sometimes happens in a beauty salon.
Once the treatment is finished, you can enjoy the benefits of relaxation after the service by staying comfortably at home. For those who are complexed by their skin and / or who are not used to going out without makeup, choosing an at-home cosmetic service is also a big option.
In general, having an esthetician at home saves precious time by avoiding trips and waiting lines at the institute. This also allows you to make an appointment at the last moment and / or at unconventional schedules since all our beauty treatments can be booked from Monday to Sunday, from 7 a.m. to 10 p.m.
How much does a purifying facial treatment cost?
To treat yourself to a purifying facial treatment, count around 60 pounds in a beauty salon. As for aesthetic services at home, you can benefit from rates similar to those charged in institutes!
And yes, at Wecasa, we offer fair prices for our customers for incomparable comfort. For a purifying treatment, prices start from £ 54.90 for 60 minutes of happiness!