Between work, children, housework, shopping and everything in between, it is not always easy to free up the time to find an open hairdresser near you . Never mind, Wecasa offers you a major solution: at-home hairdressers available everywhere in London, 7 days a week and even at the last minute!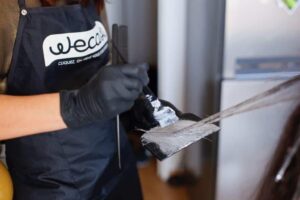 Find an open hairdresser nearby
Are you looking for a hairdresser near your home without spending hours looking? What if the solution was to call a Wecasa home hairdresser ? Whether you live in Paris, Lyon, Marseille, Nice, Nantes, Lille or even in the countryside, you will easily find a hairdresser available near you with our network of Wecasa hairdressers.
Whatever the desired service (shampoo, cut, brushing, Brazilian straightening, color, wedding hairstyle, beard size…), we select the best hairdressers to meet your needs. To do this, simply choose the desired service, specify your availability and give your contact details so that our services find you the hairdresser you need in record time! Note that no cash is required since you will be debited directly after the service.
Find a hairdresser open outside office hours
Do you have a busy schedule? A job whose hours do not allow you to be flexible? Children to take to the right and to the left? Between shopping, work and the kids, it's not always easy to find free time to take care of yourself! Even more so if you live in the provinces where finding a hairdresser available at late hours and open on Sundays is sometimes an obstacle course.
So if you are no longer counting your hours and want to find a hairdresser open outside the conventional opening hours , opt for a Wecasa home hairdresser! Thanks to the Wecasa network of hairdressers, you can have your hair done from 7 am to 10 pm, every day, even on Sundays! Enough to avoid unnecessary waste of time and avoid queues in hairdressing salons and thus make the most of the little free time you have.
Find a hairdresser open at the last minute
You are not the type of foresight and you have trouble organizing yourself in your daily life? With Wecasa, the reservation of a hairdresser at home is possible at any time of the day and every day of the week. So if you want to change your hairstyle or hairstyle for an impromptu event or a last minute evening, all you have to do is call on Wecasa! In two steps, you will be able to book your service for the same day and find a hairdresser at home at the right price . For those in a hurry, it is even possible to get an appointment to have your hair cut within two hours of your reservation!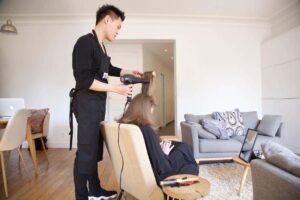 Good to know: if you live as a couple, with family or friends, you can benefit from a hairstyle service for several people. The advantage? In addition to saving time, you will also save money since the prices are decreasing from two people.
Find a hairdresser without leaving your home
Finding an open hairdresser without having to come to your home has many advantages. Beyond saving time, hairdressing at home allows you to be pampered in an intimate setting. Comfortably installed at home, you will not need to think of anything since the Wecasa hairdresser takes care of everything: from equipment to cleaning once the service is over!
Having your hair done at home is also a great alternative for home-loving people who want to avoid public places and crowds or who don't want to brave the cold or the rain! Finding a hairdresser without leaving your home is also practical when you have young children since it avoids finding someone to look after them or paying for a babysitter. The opportunity also to offer them a new cut in a reassuring and familiar setting.
Finally, hairdressing at home is an ideal solution for people immobilized permanently or temporarily. We think in particular of the elderly, people with reduced mobility but also pregnant women or injured athletes! So if you too are forced to stay at home, call on one of the Wecasa hairdressers who will come to you to pamper you …