If you want smooth, frizz-free hair without the use of any harsh chemicals, a keratin treatment may be for you!
But before going in to get a keratin treatment, there are a few important things you should know.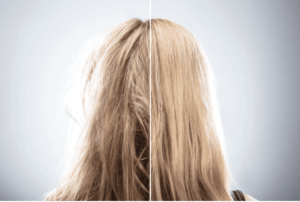 In this article, we'll walk you through everything you need to know about keratin hair treatments, to help you decide whether this hair treatment is a good option for you!
What is a keratin hair treatment?
The keratin treatment smoothes your hair by penetrating it with a large amount of formaldehyde to preserve the hair's structure. It also fills in any gaps left by damaged parts of the hair, which is what makes it so smooth and frizz-free.
A keratin treatment done by a hair care professional will usually last between 3 and 9 months.
Who should get this hair treatment?
Unfortunately, keratin treatments are not suitable for everyone or every hair type:
If you have naturally curly or wavy hair, keratin treatments will work best on your hair type to make it smoother and less frizzy.
Because of the chemical process involved in a keratin treatment, it is not suitable for damaged hair.
Pregnant women should avoid keratin treatments because formaldehyde can be damaging to the unborn child.
If you have bleached hair, a keratin treatment will only last you about three weeks because bleached hair is already so damaged.
Because keratin treatments leave your hair so smooth, it is harder to style. People with very fine hair may not be able to style their new frizz-free locks.
Read more: How to find a mobile hairdresser near me?
Is keratin dangerous for my hair?
Although formaldehyde is not as harmful as it has been depicted, it is still a harsh chemical that can cause serious damage to your hair if it isn't prepared correctly before being applied or used for too long during the treatment!
This is why you should know the facts before getting a keratin treatment done.
Tips to prevent hair damage from a keratin treatment:
Do not dye, highlight, or chemically process your hair at least three weeks before getting a treatment like this. The chemicals used in these processes can react negatively to the formaldehyde in a keratin treatment.
Be sure to avoid washing your hair for at least three days after the treatment. The keratin in the formaldehyde bonds to your hair, and washing it will mess with that bonding.
If you have bangs, be sure they are pinned back during the application process in order to avoid any damage!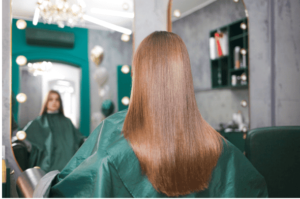 How much does a keratin treatment cost?
Be prepared to spend some money! Although keratin treatments can range from £150 to £300 depending on where you get them done, they will last for months.
Think of it as an investment in your hair!
With Wecasa hairdressing, a keratin hair treatment with an experienced home hairdresser starts at £219.
Just choose the hair service you want, tell us your ideal appointment date and time, and we'll match you with a qualified mobile hairdresser – ready to do your keratin hair treatment in the comfort of your own home!
Read more: Wecasa home hairdresser reviews
Things to know before getting a keratin hair treatment
Now that you know the basics about what this hair treatment entails, the risks, and the cost, here are a few extra tips to keep in mind when deciding on getting this treatment:
You may experience some itching and irritation during the application process, but this is normal and shouldn't last too long! If anything seems wrong, talk with your stylist about it.
You may experience dry hair during the next few days after having your keratin treatment done. If this is the case, don't shampoo it and try putting some oil (coconut, olive, etc.) in it to help restore moisture.
If you have very curly or coarse hair, your stylist may recommend that you get two keratin treatments for best results. This is especially true if you chemically process your hair at all – it will help your treatment last even longer!
Although keratin treatments aren't very harmful for most people, there are still chemicals involved which may not be the right option for you. Be sure to talk with your stylist about any reactions or health issues you have before getting a treatment done!
This hair treatment is a great option for those with frizzy, hard-to-manage hair who are looking for a smoother, sleeker finish.
However, they are not for everyone and certainly should only be done by trained professionals who know how to reduce the risks of doing this treatment.
Although keratin treatments can make your hair look amazing, it is very important to know what you're getting yourself into before taking the plunge!
Now that you've read up on all of the basics of keratin treatments, you will be sure to have an amazing experience with a fantastic result.
Ready to get your keratin hair treatment done? Check out Wecasa!