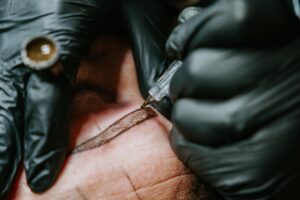 Are you someone who likes the idea of never having to worry about your makeup again? Do you want to wake up looking like you just put on a full face of make up even after a long night? If so, semi-permanent make up may be for you! But, what is permanent makeup?
Permanent make up is a method of cosmetic tattooing in which pigment is implanted into the upper layer of the skin, at the dermal-epidermal junction. It is also known as dermapigmentation, micropigmentation, and cosmetic tattooing. This technique is used to enhance your natural beauty or create features on the face such as eyebrows, eyes, and lips. It's a beauty trend that has increased in popularity with many women in recent years!
Whether you've never heard of semi-permanent makeup and are looking to learn more about this beauty technique or are trying to decide if it's right for you, we've got all the info you need.
We'll cover what semi-permanent makeup is, the advantages and drawbacks of this beauty treatment, and how to take care of your skin after the treatment for long-lasting results.
What is semi permanent makeup?
Semi-permanent or permanent makeup, also known as cosmetic tattooing, is a method of implanting pigment into the upper layer of the skin to create a natural-looking cosmetic enhancement. While permanent makeup is typically associated with brows, eyes, and lips, it can also be used to conceal skin imperfections to enhance natural beauty and create a more youthful appearance.
The ink coulour used in permanent makeup are usually iron oxides, titanium dioxide, or other metal salts. The depth at which the implementing pigment is implanted in the skin varies depending on the technique used by your technician and its intended purpose.
Unlike traditional tattoos, semi-permanent makeup and cosmetic tattoos will eventually fade over time. The length of time that semi-permanent makeup lasts depends on a number of factors, including the type and color of pigment used, as well as the individual's skin type and aftercare regimen.
Frequently asked questions about semi permanent makeup
What is the difference between permanent and semi-permanent makeup?
Essentially, permanent make up and semi-permanent make up are the same thing – both refer to a cosmetic tattooing technique in which pigment is implanted into the epidermis, (the papillary layer of the skin) to simulate natural makeup (semi permanent eyeliner, lipliner, brows) or to look like natural brow hair.
How long does semi-permanent makeup last?
The length of time that semi-permanent make up will last depends on a variety of factors, including the type and color of pigment used, and how well you take care of it in the days and weeks following your procedure.
However, most women find that their semi-permanent makeup remains vivid for between one and three years. You will likely start to notice the pigment fade slowly after that time.
Does semi-permanent makeup fade completely?
No, unfortunately not. Even though the ink used in semi-permanent makeup are different from those used in body tattoos (intended to be permanent), they both penetrate the epidermis and enter the dermis (the second layer of skin). This is why, over time, all tattoos – both permanent and semi-permanent – begin to fade, and that's a problem for those who want to maintain their makeup. Some people choose to have the session redone about once every eighteen months to maintain optimal results.
What are the benefits of semi-permanent makeup?
Semi-permanent and permanent cosmetic treatment offers many advantages, including saving you time on your morning makeup routine, creating hair-like strokes in eyebrows, helping to camouflage skin conditions and imperfections, and making your makeup look more natural and flawless. Additionally, if you have sensitive skin or allergies that make it difficult for you to wear traditional makeup, a cosmetic tattoo can be a great alternative.
Does cosmetic tattooing hurt?
The pain level associated with cosmetic tattooing varies depending on the type of procedure, the area of the procedure, as well as your individual pain tolerance. Ultimately, while you may experience some minimal discomfort during the procedure, most people do not find it to be any more painful than getting a regular tattoo. That said, many technicians will offer clients numbing cream or anesthetic injections to help minimize pain.
Who should avoid semi-permanent makeup?
Anyone who has had recent cosmetic surgery, or is pregnant, are not suitable for makeup tattoos. Additionally, clients with a history of keloid scarring or poor wound healing may need to proceed with caution when considering semi-permanent makeup treatments.
Common types of semi-permanent makeup procedures
There are several different types of cosmetic tattooing procedures that can be performed, depending on your desired look.
The most common types of semi-permanent makeup are:
Eyebrow tattooing: This involves implanting pigment into the skin to create natural-looking brows. It is often used to fill in sparse or thinning eyebrow hair, or to create perfectly shaped eyebrows.
Semi permanent eyeliner: Tattooing the skin around your eyes is a great way to enhance their appearance and make makeup application easier. It can be used to achieve a defined cat-eye shape, fill in gaps in your lash line, give you a permanent eyeliner look, or cover up any undesired features of your natural eyeliner.
Lip line tattooing: Permanent lip makeup is a great option for those who struggle to apply lipstick or lip gloss evenly, or for people with naturally thin lips. Semi permanent lip liner can also be used to create the appearance of larger, plumper lips and give you that perfect pout look!
Scar camouflage: This procedure involves implementing neutral colour ink to simulate your own skin tone, and can be used to help conceal scars caused by trauma, surgery, or skin conditions like vitiligo.
While semi-permanent makeup is not a perfect solution for everyone, it has many advantages that make it an appealing option for those who want to enhance their appearance, achieve their desired look, or simplify their morning beauty routine. Talk to your technician to learn more about the different types of cosmetic tattooing available and what might be right for you.
Are permanent and semi-permanent makeup the same?
You may have heard of the "permanent makeup" technique and be wondering what the difference is between that and semi-permanent makeup.
In essence, permanent makeup refers to a tattooing technique in which pigment is implanted into the dermis, or second layer of skin. Semi-permanent makeup is similar in that it involves implanting pigment into the epidermis, or top layer of skin. This means that both techniques result in tattoos that will dim over time as the body naturally breaks down and removes the pigment.
Both semi-permanent and permanent makeup techniques offer the same general benefits, such as saving you time on your morning makeup routine and helping to camouflage skin conditions and imperfections. However, because semi-permanent makeup is not as deep as permanent makeup, it typically dims faster and requires more frequent touch-ups.
What should I expect from a permanent makeup treatment?
During the session, your technician will draw on your desired look with a pencil or marker. This will give you an idea of how the final product will look, and also help the technician map out the pigment placement.
Once you're happy with the design, the technician will clean your skin and apply a numbing cream to help minimize irritation. Next, they will use a special tattooing tool to implant the pigment into your skin. The entire process usually takes about an hour, and you may experience some mild pain or stinging during the procedure.
Afterwards, you will need to follow some basic aftercare instructions, such as keeping the area clean and avoiding direct sun exposure for a few weeks. Your technician will also schedule a follow-up appointment to check on your progress and make any necessary adjustments.
Pros of Permanent and Semi-Permanent Makeup
There are many advantages to opting for this procedure over conventional makeup application.
It can save time on your morning beauty routine, as it looks just like natural makeup and will save you from having to apply eyeliner, lip liner, and eyebrow liner.
Semi-permanent makeup is long-lasting; depending on the type of pigment used, your semi-permanent makeup can last for up to five years or more.
Semi-permanent makeup can help people who have difficulty applying their own makeup, such as those with arthritis or other disabilities that make it difficult to apply makeup.
If you are looking for a more low-maintenance beauty routine and don't mind going in for occasional touch-ups, semi-permanent makeup may be right for you.
However, it's important to understand the limitations of semi-permanent makeup as well – pigments will fade over time, and the makeup will need to be periodically refreshed to maintain its original look.
Cons of semi-permanent makeup: What are the risks?
While both permanent and semi-permanent makeup techniques offer a range of advantages, such as saving time on your morning makeup routine or providing natural-looking coverage for skin conditions or imperfections, there are some considerations to keep in mind before choosing either option.
Like any tattooing procedure, there is always a risk of infection and allergic reaction when having semi-permanent makeup done. For example, those with sensitive skin or allergies may want to avoid semi-permanent makeup as there is a risk of irritation or allergic reaction. We recommend doing a patch test on a small area of skin first before going forward with the procedure, to make sure that there are no adverse reactions.
It's also important to note that while semi-permanent makeup will be less noticeable over time, removal of the ink can be difficult if you decide you no longer want it. Additionally, if the pigments are not applied evenly or deeply enough, the makeup can appear patchy or uneven.
Before opting for this treatment, be sure to consult with a qualified technician to discuss your options and get a better understanding of the risks involved.
As with any procedure, it is important to do your research and choose a reputable technician who has experience with the specific makeup technique you're interested in. Be sure to ask to see before-and-after photos of their previous work, and don't hesitate to ask for references to contact for feedback on their experience.
By doing your research and being careful about the process, you can help minimize the risks of this makeup treatment.
Aftercare: How to make your results last long
After you've had your cosmetic treatment done, it's important to take care of the area to ensure that your results last as long as possible.
Here are a few tips for permanent makeup aftercare:
Clean the area with a mild cleanser and cool water twice a day.
After the initial application, apply a thin layer of petroleum jelly or healing ointment to the area, and avoid touching or scratching it.
Avoid direct sunlight to the treated area and limit sun exposure by wearing sunblock or a wide-brimmed hat when going outside.
Consider scheduling regular follow-up appointments with your technician to check on your results and make any necessary adjustments as needed.
If you notice any signs of infection or irritation around the area treated such as redness, swelling, or itching, talk to your technician about possible treatments.
Permanent makeup is a great option for those who want to simplify their beauty routine or enhance their appearance. With proper aftercare, permanent makeup can last for years, though you may need occasional touch-ups to maintain your desired look.
I don't think this cosmetic treatment is for me… What are the alternatives?
If tattooing your face or body isn't for you, there are other options to consider. For example, you could use makeup products that offer long-lasting results, such as waterproof mascara and foundation.
Alternatively, you could try non-invasive beauty treatments like laser skin resurfacing or microdermabrasion to help improve the appearance of your skin without the commitment of permanent makeup. Eyebrow tints and eyelash tints can also help to give the illusion of darker, fuller brows and lashes without the use of makeup. It's a non-invasive way to experiment with a new look without the commitment of a permanent makeup tattoo.
Non-invasive makeup and beauty treatments with Wecasa
At Wecasa, we offer  a variety of 100% non-invasive cosmetic and beauty treatments to help you achieve your ideal look, including:
Our team of professional technicians are knowledgeable and experienced in all aspects of cosmetic treatments, so you can trust that you're in good hands.
If you're looking for a type of non-invasive aesthetic treatment, our experts will help you find the best option for your needs and desired results!