Who has never dreamed of having a doe gaze without spending hours in the bathroom? For that, we can look to eyelash extensions! This allows you to have long and curved eyelashes thanks to individual synthetic fiber extensions.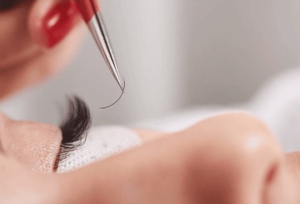 This new technique is now widely practiced throughout the UK and Greater London. We can book the installation of extensions everywhere in London! You can choose the color, thickness or curvature of the eyelash.
We'll take a look at the average prices charged by professional estheticians for eyelash extensions.
What is an eyelash extension?
An eyelash extension consists, as the name suggests, in lengthening the natural eyelashes. When you make an appointment for an eyelash extension, your beautician will place synthetic eyelashes on each of your natural eyelashes.
Thus, the result is a more curved, more voluminous lash line for a more intense look.
Eyelash extensions are for everyone, especially people with thin or short eyelashes who would like to enhance their gaze. No need for mascara: the extension promises a star-like look without makeup! If this is done well, the result is very natural and without any risk to your eyes.
Eyelash extensions are fairly simple to maintain and not very restrictive; once they're applied, you don't have to worry about anything else! And 48 hours after application, you can get them wet without any issues.
The lifespan of an eyelash extension is the same as the lifespan of a natural eyelash, approximately 4 to 6 weeks. When the natural eyelash falls out, it takes the extension with it, leaving room for a new natural eyelash.
Why do an eyelash extension?
There could be different reasons why you want to wear eyelash extensions!
First off, you might be someone who can't stand makeup- and mascara specifically. Eyelash extensions will not be a problem for you as you will no longer need to put on makeup.
You can also have very thin or very short eyelashes and want a fuller, longer look. Then eyelash extensions are perfect for you.
The different types of eyelash extensions
You will quickly understand it, extensions are a whole world! In fact, there are many different types of eyelash extensions :
We talk about classic lash-to-lash extension or a natural lash look when the extensions are placed on each individual eyelash. The finished look is very natural
Do you want a star-like gaze? Then the 3D pose or Russian volume look may be more suitable for you! Here, we apply a bunch of multiple synthetic eyelashes directly onto your eyelashes. The result is then much more intense
Are you wondering what to choose between a classic natural eyelash extension or a Russian volume look? Do not hesitate to ask for advice from an eye professional!
Indeed, contrary to what one might think, if you have very few eyelashes, it may be beneficial to choose the Russian volume. Your beautician will be able to create an expanded volume with very fine false eyelashes, while a classic pose would offer a result that is too light.
What are the prices for an eyelash extension?
The installation of eyelash extensions requires a precise technique and know-how. Entrust this mission to professionals who are used to applying eyelash extensions.
You will find that the prices are different depending on your region, or if you go through a beauty salon or a professional at home.
The prices for an eyelash extension that we are going to give you are an observed average:
For a classic lash application with the individual lash-to-lash method , the price is between 60 and 200 €. During this session, your eyelashes will be doubled with the addition of a synthetic eyelash on the natural eyelash
For a Russian volume (3D pose) , the prices are between 100 and 300 €. Here, we apply up to 8 times more eyelashes per extension than for the classic eyelash method
What price for the maintenance of eyelash extensions?
To maintain quality eyelashes as long as possible, maintenance should be done regularly.
You can book an eyelash infill every three or four weeks. We recommend filling when many natural eyelashes have fallen out and the look is therefore less intense than at the time of application.
The price for an eyelash infill costs between 40 and 120 € depending on the method chosen.
Finally, to remove your extensions, you can opt for an eyelash extension removal, for which the price is between 10 and 25 €. In general, removal includes the application of a very pleasant and necessary treatment to properly hydrate your eyelashes after wearing extensions!