Changing your look makes you feel like you've been reborn and become a new person.
Whether it's clothing or hair, it never hurts to bring a fresh touch to your appearance. With all the new trends on the red carpets, you should not be short of ideas when it comes to hairstyles.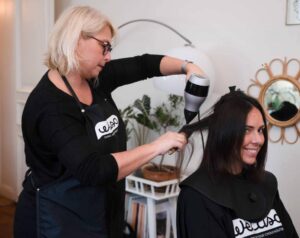 On the other hand, maybe you are lost and have no idea what to go for.
If you want to change your haircut and need advice on the best haircuts for women, call on a Wecasa Private Hairdresser who will come to you whenever you want.
Best haircuts for women: How should you choose your haircut?
Do you have a thing for Angelina Jolie's bob cut or Victoria Beckham's bohemian hairstyle on the red carpet but are not sure that this hairstyle will have the same effect on you? You shouldn't choose a hairstyle at random; you need to take into account certain aspects such as the shape of your face and the length of your hair.
Face shape: To enhance your beauty, opt for a hairstyle that will bring out the features of your face, be it round, oval, square or long. Before you start, it would be better to make use of a professional's eye to guide your choice of hairstyle. By booking your hairstyling with Wecasa, you choose a qualified and experienced hairdresser who will come to your home and devote the time needed for a quality service.
Hair length: Similarly, you need to check that the length of your hair corresponds to the cut you want. Some cuts such as the A-line, for example, are exclusively reserved for short hair while the ponytail is best for long or medium-length hair.
Best short haircuts for women?
The bob cut: This is a hairstyle that has had a strong presence for the last few seasons. Short or medium-length, the bob cut will make you look sublime by giving you a classic and casual look. It can also give you a more or less serious look depending on the length. Your haircuts may be accompanied by a colour (highlights or tie and dye) if you wish. At Wecasa, you can reserve your home haircut by a Private Hairdresser.
Cut with fringe: A cut with fringe is a hairstyle that stays current and lasts through the seasons without going out of fashion. In a straight line on the forehead or slightly gradient on the side, the fringe emphasises your look and gives some oomph to your hair. In addition to energising your haircut, it will elevate your hair.
However, be sure to choose the right hairdresser because cutting a fringe requires precision that only experienced professionals have.
Chic or boys' crop- These are types of haircuts that stand out from the crowd every time. Women's crops are a fashion that has been causing more and more of a stir in recent years. They can reveal a chic look or a 'boy' effect depending on the chosen style. In nice weather, it is the perfect haircut for looking glamorous.
Now that you have an idea of our opinion on some of the best haircuts for women, hopefully you will have a better idea of what haircut and style would suit you best.
Remember, these are merely our suggestions – you'll look great in any haircut that makes you feel confident and powerful! Ultimately, you decide which hairstyle will suit you best.
Get in touch with a Wecasa hairdresser soon and book your home haircut. Starting at £29.90, Wecasa will pamper you with a professional hairdresser coming to your home any day of the week from 7am to 10pm to enhance your beauty. Don't miss out on this opportunity!