Not all mobile nail technicians are the same – Some might be interested in making money by doing nails at weddings, school dances, or other special events, while others may just want to do nails for friends and family who live down the block. Either way, every mobile nail technician needs the right tools for their trade.
This article will guide any current or future mobile nail technicians in the right direction when it comes to what equipment to buy to carry out an at-home manicure or pedicure service.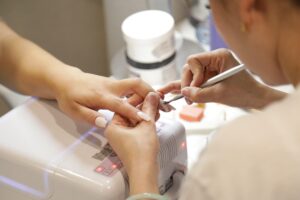 Must-have equipment for mobile nail technicians to have
Nail clippers and nail file
Nail clippers and a nail file are a must-have tool for any mobile nail technician to have in their collection. The first step in any manicure or pedicure service, it is essential to have a set of good quality nail clippers and filers for a flawless nail service.
Exfoliator
A handheld exfoliator or pumice stone is another essential for any pedicure service. The right exfoliator should remove the dead skin from the feet easily and painlessly, leaving your client with soft smooth feet after the service.
Cuticle oil and cuticle trimmer
Having a bottle of cuticle oil is important for mobile nail technicians to have in their mobile nail kit. It helps mobile manicurists keep cuticles looking neat and healthy after the service, while the cuticle trimmer is used to remove dead skin cells from around the cuticles.
Nail polish remover or acetone
Unless mobile nail technicians plan on performing only glitter services for mobile manicures, they will need nail polish remover or acetone to remove the old coats of colour after each service.
Base and topcoat polish
The holy grail to any manicure or pedicure service – the base coat and top coat. A mobile nail technician should have at least one bottle of each to perform a mobile nail service.
Having a base coat polish is essential for nail technicians to apply on clients before applying colour. A mobile manicurist should always have a base coat polish in their collection.
A top coat is just as important, and mobile nail technicians must have at least one bottle in their mobile beauty kit. It seals the colour and protects it from chipping and helps give nails a glossy shine.
Nail tips
Nail tips, often made from plastic or acrylic, are necessary for any nail technician to have in their kit. They are available in many different colours, designs and patterns. Nail tips are the base used when doing a nail extension service.
Acrylic powder and liquid
Acrylic powder and liquid are needed for mobile nail technicians who offer acrylic nail extensions as part of their services. The acrylic powder and liquid are used together and applied to the plastic nail tip to form the nail extension.
Nail art brush set
Mobile nail technicians should invest in a good quality set of mobile nail art brushes for clients that want a nail design or a gradient nail effect like the Babyboomer. Nail brushes are also essential when applying acrylic powder and liquid during a nail extension service.
Read more: What are Babyboomer nails?
Nail drill
A mobile nail technician might need to use a powered nail drill if they are performing a full set of acrylic nails as part of their mobile manicure service. The technician should have a cordless, battery-operated nail drill with them for this purpose.
Gel color polish
After the old polish has been removed and the base coat applied, mobile nail technicians should apply a gel color polish if their manicure requires it. Gel color polishes can be found in many different color variations and look stunning against the skin. Gel polishes are ideal in comparison to traditional nail varnish because they tend to last much longer and don't chip or fade like traditional nail varnish.
Nail lamp
A nail lamp is just maybe one of the most important pieces of equipment for a nail tech to have. A mobile nail technician needs to have a mobile, cordless nail lamp that can be easily carried around with them. A UV nail lamp is used to cure gel polish and is a staple piece of nail tech equipment.
Tips for mobile nail technicians
Most mobile nail technicians will not have the luxury of having a beauty room to carry out their mobile nail service in, which is why it is important to have a collection of all the beauty & nail equipment needed to carry out their mobile manicure and pedicure services.
As a mobile beauty therapist, you should avoid carrying items that contain strong scents or products that can be harmful to use in close proximity to others.
Mobile nail technicians should always ensure that their mobile beauty kit is kept clean and tidy, as well as thoroughly disinfected before each mobile nail service. Keeping beauty equipment safe from infection is extremely important for mobile manicurists. Mobile beauty kits can be easily cleaned using a disinfecting spray and disposable wipes, which every mobile nail technician should keep with them to use to clean their equipment before and after each mobile nail service.
Becoming a mobile nail technician
Once you have all the necessary equipment – you're ready to go! With Wecasa, you don't even have to worry about marketing yourself or finding your own clients; we do all that for you.
Ready to start your journey as a Wecasa mobile nail technician?