Are you a professional masseur and you want to start massage services at home? Discover the essential equipment to plan and all our advice for a successful massage session in private homes.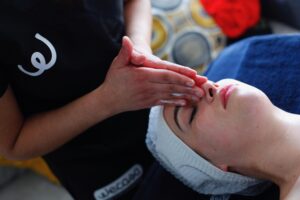 The massage table
If there is one essential tool for performing massages at home, it is the massage table!
Characterized by a specific shape and ergonomics, the massage table must allow the professional masseur to have easy access to all areas of the body. To provide maximum comfort to the patient, the massage table must consist of a thick and flexible mattress (with a minimum foam thickness of 5 cm with ideally a memory layer), a headrest, and solid table tops.
If you are a home masseur, you will not be able to choose a fixed massage table model but instead you will have to turn to a folding and easily transportable massage table. Typically made of wood or aluminum, folding massage tables should be both light and strong. The ideal table? Choose a model weighing 12kg maximum equipped with telescopic feet for quick and efficient height adjustment. Regardless of the folding massage table model, do not forget to provide a carrying case with or without wheels to facilitate your movements.
The futon
For masseurs practicing oriental massage techniques such as Thai massage or Ayurvedic massage, the purchase of a futon is essential. It is a Japanese mattress that sits on the floor and therefore allows massage on the floor. So that he can turn around the patient without having to put his knees on the ground, the practitioner will favor fairly wide futon models (between 120 and 200 cm).
Note: if the dimensions allow it, the futon can also be used as a mattress for the massage table.
A massage chair
Some massages are performed in a seated position in order to best treat certain specific areas of the body such as the shoulders, the neck or the trapezoids… This is why it may be worth investing in a massage chair to perform the massage. seated massages. To choose a massage chair model, several criteria must be taken into account.
To offer maximum comfort to your patients, choose an adjustable seat and a headrest adjustable in height and inclination that will allow them to adapt to the morphology of each individual. As with the massage table and the futon, opt for a seat with high foam density. For optimal stability, prefer models with transverse legs. Finally, for your own comfort, consider choosing a light massage chair (no more than 9 kilos) with a transport cover.
Linen
To massage your patients in comfortable and hygienic conditions, it is imperative to provide a clean towel to place on the mattress of the massage table. Cushions and towels will obviously have to be washed and disinfected between each patient. To cover the areas of the body that are not massaged, you should also think of a cloth (towel or blanket).
In addition to making your client more comfortable, it will also keep your patient warm. Remember that by lying down and relaxing, your body temperature drops. To pamper your most cautious customers, you can also provide an electric blanket.
Massage oils
Massage oil plays a decisive role in the success of massages as it facilitates the masseur's movements. Depending on the type of massage performed, there are several types of massage oils: neutral oil, cream, relaxing balm or even warming oils. Neutral massage oil is the most commonly used type of oil.
Professional masseurs generally use it to perform Californian, Ayurvedic, Lomi Lomi massages … As for creams and balms, they are more preferred to act on joint and muscle problems.
Know that certain oils are preferred for their virtues according to the needs of each patient. For example, castor, argan or grape seed oil are recommended oils for anti-aging treatments, while sweet almond, arnica and jojoba oils are ideal for problem skin in view of their anti-inflammatory action.
You understand, the choice of massage oils is made according to the type of massage performed but also according to the skin and the expectations of your patients. It is therefore better to provide several types of massage oil to be able to meet all the requests!
Ambience accessories
If the supports like the massage table or the oils are essential for a successful massage at home, you should not forget all the accessories that create an atmosphere conducive to relaxation. Since your patient will be at home, it is important to help him disconnect from his or her environment by making their space your own- without being too invasive.
To promote their well-being, you can ask your client if they would like a massage to music. In that case, bring a speaker and plan a relaxing music playlist.
Beyond music, lighting also plays a vital role. For subdued light, don't hesitate to bring a few candles and avoid too bright light sources. You can also choose scented candles or bring back a room diffuser with essential oils with soothing virtues … What to offer your patients, a unique moment placed under the awakening of the senses!