Whether you are looking for occasional or regular household help, the first thing to do before hiring a housekeeper is to list your needs for all the rooms in your home.
In order not to forget anything and not make mistakes, discover our guide to all the tasks that you can assign to a housekeeper and those that you cannot entrust to her.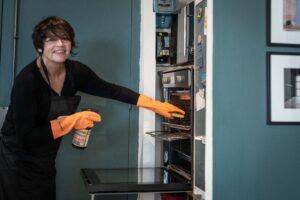 What tasks can you assign to your domestic cleaner?
The duties of a housekeeper or a domestic cleaner may vary depending on your needs and your budget.
So, if you've been planning on hiring a domestic cleaner, here's a comprehensive list of all the jobs you can give him or her. All you have to do is choose the ones you need and provide them with the list to help them best meet your expectations.
Interior cleaning in a house or apartment
Generally speaking, the home help is responsible for cleaning the interior of a house or apartment. Among the main tasks of a housekeeper, we can therefore cite:
Floor cleaning:
Whether it's hardwood, laminate, tile, carpet or even rugs, your domestic cleaner can take care of vacuuming and / or mopping all of your floor coverings. Depending on the type of floor in your home, your cleaning lady can also advise you on the household products to use.
Cleaning of wall coverings:
In addition to the floors, the domestic cleaner can also wash the walls, doors, windows and windows.
Dusting of furniture and surfaces:
To prevent dust from accumulating in your interior, your household help can dust all surfaces and furniture, namely tables, cupboards and other furniture, lights, objects and knick-knacks of all kinds or even electronic devices such as television.
In addition to cleaning floors and dusting surfaces, some rooms in the house require special household chores due to their more frequent exposure to bacteria. This is the case with the kitchen where your domestic cleaner can:
Clean cupboards and worktops
Clean and descale the sink and the taps
Clean household appliances like the microwave or refrigerator
Degrease the oven and the baking sheets
Empty and change garbage bags
Put away the dishes and empty the dishwasher if necessary …
On the bathroom and toilet side, your housekeeper can:
Clean and disinfect toilets
Clean and descale if necessary the bath and / or the shower
Clean and descale if necessary the sinks and taps
Change garbage bags
Change towels and stock up on toiletries …
Finally, in terms of household chores to assign to your domestic cleaner in the bedroom, you can ask her in addition to the main missions of:
Changing the sheets and making the beds
Dust the space under the bed
Clean the mirrors …
What else is included in a domestic cleaning service?
Ironing the laundry
Beyond cleaning your interior, a domestic cleaner can also offer you an ironing service at home. Enough to save time and entrust this mission to professionals who have real knowledge of the different textile materials and their specificities.
The advantage with Wecasa is that you can choose a one-off or regular home ironing service, all without obligation. You just have to choose the frequency and duration of the ironing according to your needs and our domestic cleaners will take care of the rest.
Note: for your household help to take care of your ironing at home, you must provide the right equipment (an ironing board, a simple iron or a steam generator) before your arrival.
What are the tasks not to be entrusted to your domestic cleaner?
If the tasks of a domestic cleaner are intended to be multifunctional, we cannot entrust them with everything and everything. For example, forget about tasks requiring a certain strength, such as carrying heavy loads.
Likewise, it is not conceivable to ask the domestic cleaner to clean surfaces accessible only by ladder or outside living spaces (such as an attic). Finally, you cannot ask a domestic cleaner to do the shopping, prepare meals, do some gardening or babysit.
At Wecasa, housekeepers only take care of the interior cleaning and ironing.